Food Georgia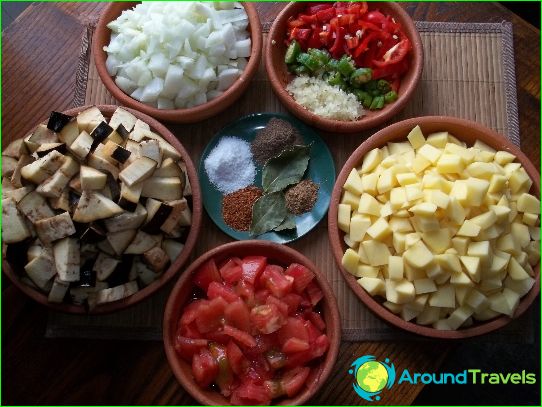 Georgian cuisine combines sharp and spicy. Many dishes of Georgia has long been popular around the world. These include khachapuri, kharcho, tobacco, chicken and others. In this kitchen is widely used a variety of vegetables. They serve as a complement to the meat and food self-advocate.
Traditional cuisine features
There are differences in the recipes and EastWest Georgia. In the east, they use a lot of white bread. Residents of the western regions make tortillas and cornmeal porridge. They eat porridge with cheese suluguni. In addition, in the West prefer to cook dishes from poultry. The Georgian people almost do not use the fish. The exceptions are people living on the banks of rivers.
National table features a large numbersnacks. They are represented by dishes from young nettles, spinach and beets, as well as cold food from beans or lobio. Georgians prepare eggplant with garlic, nuts, tomatoes and onions. Because they eat only mushrooms oyster. A popular hot snack is Kuchmachi. It is made from pork or chicken entrails boiled stomachs. this food taste shades walnut sauce. At Georgian table must exist herbs: parsley, watercress, dill, mint, tarragon, thyme, basil. In addition, it serves peppers, tomatoes and radishes. Famous seasoning meat is adjika, which is derived from garlic, red pepper, coriander, hops-suneli and dill. Satsivi and kharcho usually eat with seasoning hops suneli. The unique color have hot meals Georgia. Special demand kyufta-bozbash. This is a delicious soup with meatballs with the addition of potatoes and peas. Mistresses often make hash - soup made from mutton or beef offal, well flavored with fragrant garlic. From chicken they cook chikhirtma.
The best meat dishes
Of the meat dishes in Georgia prefer friedmeat on a skewer or skewers. In general, the people of this country is preparing on hot coals, not only meat, but also vegetables, fish and cheese. Kebab is recommended to eat immediately after removal. To put on the table kebab onions, sliced ​​rings, greens, fresh tomatoes, cucumber and lemon slices. Fresh vegetables sometimes prefer to roast on a spit, as well as meat. A nice addition to the kebab sauce becomes tkemali. National dish, which has a wide distribution, is considered khinkali. It is juicy and large dumplings, sprinkled with black pepper. Traditionally khinkali eat with his hands.
Photo