Georgia's national parks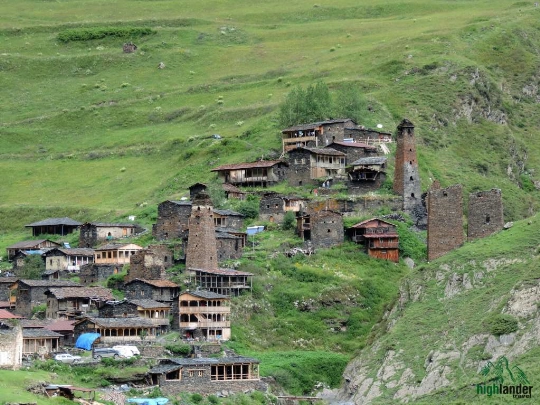 Georgia - a country of amazing! In addition to the hospitality of its people and unique cuisine, which is equal to anywhere in the world does not exist, Transcaucasian republic offers guests to enjoy the majestic mountains, pristine lakes and mineral springs, known to people for a long time. Ten of Georgia's national parks - its heritage and pride, and in each of them an inquisitive traveler is unique landscapes and natural beauty.
In welcoming Kakheti
Wine region of Kakheti - a populartourist destination in the Republic of Georgia. National Parks Kakheti visited annually by thousands of tourists who want to taste the real gold of this land - delicious Georgian wines. To see how grapes are harvested and prepared the drink of the gods, guests can enjoy in the two national parks:
In the mountain region of Tusheti, virtually untoucheda great civilization. In this national park Georgia still meet rare animals and unique species of plants. Tusheti - house for Caucasian and Caspian chamois wolf, lynx and mountain pheasants. The park laid a lot of hiking and equestrian trails, and old villages preserved the unique historical monuments - castles and towers. You can stay in any of the family hotels.
Azerbaijan Vashlovani Park on the borderIt was created to preserve the bright forest steppe. The unique landscape created canyons and caves, and rich flora are more than 650 species of plants, including - figs, pomegranates, pistachio trees and maples. The fauna of the reserve - it is not only foxes, wolves and wild cats, but also graceful leopards.
Balm on soul
It is said that the park Borjomi-Kharagauli give one hundredpoints ahead of the Czech Karlovy Vary, not only on the quality of the healing water, but also natural beauty. Verify the authenticity of these words is easy - just go to the famous Georgia National Park. From Tbilisi to Borjomi buses and taxis, and in the town itself enough hotels and private apartments to feel welcome.
Borjomi Park located at an altitude of 800 metersabove sea level, and the mountain air, mingling with the scents of pine, here it forms a unique healthful cocktail, healing and disease, and bad mood. Borjomi mineral springs have been known for hundreds of years ago, and today the water - one of the main export of Georgian products.
A bit of useful information:
Entrance to the park costs Borjomi 1GEL. Walk to the possible source of warm mineral water which heals dozens of diseases, and to warm the pool. Bathing in it gives the skin freshness and clarity of thought.
Riding a cable car over the Borjomi - is an opportunity to admire the wonderful view of the city with a bird's-eye view. Price question - 3 GEL. At the top of the cable car is a Ferris wheel.
Photos of Georgia's national parks