The population of Georgia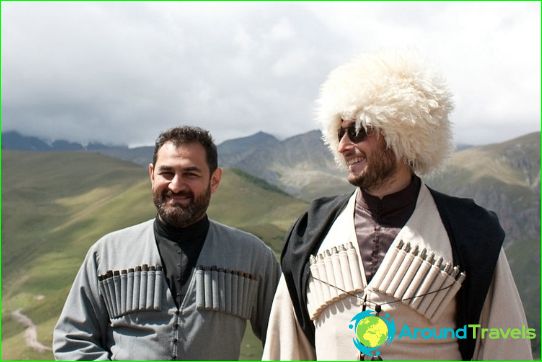 Georgia has a population of over 4 million people (an average of 70 people live in 1kv.km).
National of Georgia presented:
Georgians;
Armenians;
Azerbaijanis;
other nations (Russian, Ossetian, Abkhaz, Greeks, Germans, Poles, Bulgarians).
Georgians are descendants of tribes that stillancient times inhabited the Western Caucasus. The Georgian people have formed due to related tribes (cards Megrelo-vats and svanam) - they have for centuries engaged in cattle breeding and agriculture. At the beginning of the XX century the Georgians began to engage in the production of tea, wine, sericulture, apiculture, fishing.
The official language is Georgian, but widespread are Armenian, Russian and Azerbaijani languages.
Big cities: Batumi, Tbilisi, Rustavi, Kutaisi, Sukhumi, Tskhinvali, Zugdidi.
Georgia residents profess Orthodoxy, Catholicism, Islam.
life expectancy
Male population on average live to 73, and women - 80 years.
Relatively high expectancy indicatorslargely due to a characteristic feature of the life of Georgian cuisine - people eat vegetables in Georgia as independent dish or as a garnish for meat food. In the special honor the Georgians are tomatoes, beans, eggplant.
The main diseases affecting the population of Georgia - cardiovascular diseases, diseases of the digestive and urogenital system.
Traditions and customs
Hospitality - one of the main traditions inGeorgia is respected and loved by guests. Earlier Georgian peoples isolated for special guests of the room or house in which they were free to go out to eat or sleep.
Of particular interest are wedding traditions. On the Georgian wedding is always a lot of people, because according to tradition, the wedding should be present all the relatives from the bride and groom. Married, the young have to go in your future home: before it will go the bride, the groom should be released in the sky white bird, pre climbing onto the roof. After that, the couple have to drink wine from a glass: first sip wine should groom, and then - the bride, but before passing her a glass, he must put back the ring, which subsequently will put on the finger of his beloved. After that, guests are invited to a wedding feast (Georgian weddings are always noisy and fun with dancing and singing). As for the cost of the wedding, most of the costs borne by the groom's family, while the main "capital" of the bride is chastity, modesty, thrift, docile nature.
If you are invited to Georgia to the table - do not give up (such failures are painful Georgians).
Photo