Areas of Georgia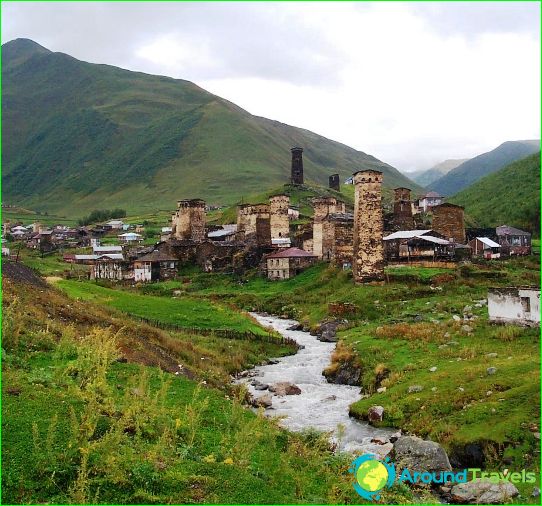 With the administrative-territorial unitGeorgia, things are not too easy. Legally country includes two autonomous republics - Abkhazia and Adzharia - and ten territorial units, called edges, among which and Tbilisi. In fact, the Georgian territory of the autonomous republic of Abkhazia controlled by the Republic of Abkhazia, which is partially recognized. Some Georgian region partly controlled by the government of South Ossetia, international status is also debatable.
However, the ambiguity of the administrative mapState - the only difficulty that will face Georgian guests. On its rich cultural heritage and the legendary warmth and hospitality of the political and territorial discrepancies in any way could not affect.
repeat the alphabet
Kakheti and Imereti, Adjara and Mtskheta - theseGeorgia domains names bring to mind anyone to go there, but the warmest feelings. Rustavi City - administrative center of one of the southern provinces, known for his national team, having a long creative history. For 35 years the Georgian State Academic Ensemble "Rustavi" gave more than three thousand concerts in 50 countries.
Known from the I century BC Telavi is located in the Alazani Valley in the Middle Ages served as the capital of Kakheti kingdom. There were filming "Mimino", as one of the main attractions of the city called the 800-year-old plane tree.
In the vicinity of Kutaisi
Pilgrimage tours in Georgia - one of the most important andpopular destinations the local tourism industry. Here are concentrated the ancient monasteries, each of which represents a considerable historical and cultural value. In the area of ​​Georgia Imereti Kutaisi on a hill near the towers Gelati Monastery of the Virgin, founded by King David the Builder in the beginning of the XII century. The mosaics of the temple is still considered the best in the South Caucasus, and portraits of crowned heads striking a careful study of details.
On the beach holiday
The main sea gates of the country - a city of Batumiin the Autonomous Republic of Adjara. This region of Georgia has a mild subtropical climate, and therefore serves as a place for traditional beach holidays and residents, and foreign travelers. Many branded Georgian dishes was originally from Adjara, for example, khachapuri in Adjara - has long been a hallmark of the region.
Photo