Reserves of Georgia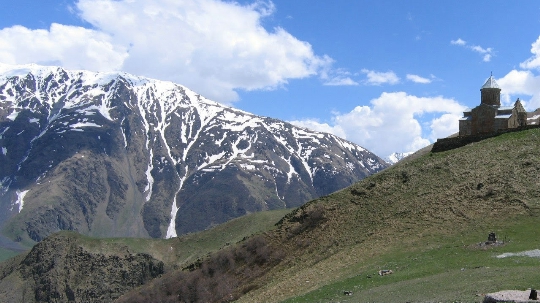 In Georgia, there are so many beautifulplaces and amazing natural landscapes. In order to preserve the national heritage, the country's parliament passed a law on conservation areas, under which all Georgian reserves, its national parks and nature reserves have received their status. The law provides for restriction of access of visitors to the parks, but the Georgian national parks, on the other hand, developing tourism as one of the areas of economic activity.
In the top ten
The best natural attractions can be seen by visiting the national parks of the country. They number ten, but the most popular are considered to be these two:
this area in - Kazbegi National Parkfoot of Mount Kazbek, 11 km from the Russian border on both sides of the Georgian Military Road. The village of Kazbegi - the administrative center of Georgia's reserve. Here begins the ascent to the summit of Mount Kazbek, and Daryal Gorge, located close by, travelers attracted by the amazing natural landscapes and ancient fortress Darialistsihe. Among other entertainment in the national park - paragliding and horse riding, cycling and rafting on mountain rivers. Motocross and hiking trails allow you to overcome the distance in any of the selected methods and sources of mineral water make holidays especially beneficial to health.
Kolkheti National Park is spread inhomonymous plain on the shores of the Black Sea. Employees of the park visitor center happy to advise guests about possible walking routes and recommend as an active recreation sport fishing. The park operates a hotel, which is especially popular during the stopover of migratory birds. In autumn and spring in the reserve of Georgia can be seen migrating swans and pelicans, and Colchis pheasants and spotted eagles live here permanently. Of all the animal species found in Colchic national park, six are included in the Red Book of the Republic.
Caves and canyons
Georgia - a mountainous country, and therefore it is not surprising,that specially protected objects include a variety of natural attractions and are located at a sufficient height above the sea level. Georgia Mountain caves are not very interesting for professional speleologists, because their sizes are not particularly impressive, but the active leisure enthusiasts are always attractions are a delight. Among the national protected monuments travelers can recommend the cave Sakazhii, Kumistavi, Nagarevi and Tsutshvati and fans of landscape and panoramic shooting undoubtedly like Eagle Valley and Canyon Okatse. All properties are located in the regions of Kakheti and Imereti.
Photo