Restaurants in Georgia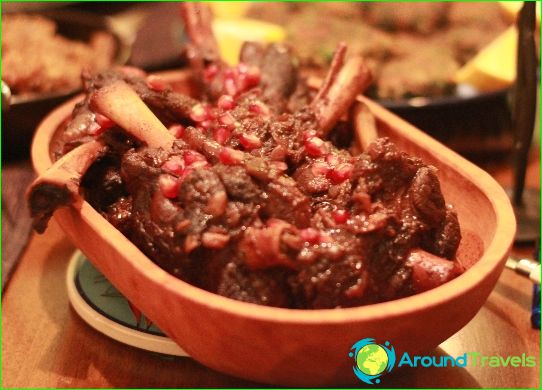 One of the strongest impressions, fallingto the traveler in Georgia - its unique cuisine. Food culture is just as important for Georgians value, as well as culture of song, dance or simply human communication. It is not made to hurry, choosing dishes from the menu, or placing in a cafe or restaurant, for a meal - a sacred thing and requires a corresponding attitude. For those who come for the first time in the country of gray mountains and fertile valleys, restaurants in Georgia are part of the excursion program - rich, informative and entertaining.
Leafing through the menu
The contrast of spicy and hot and plenty offresh vegetables - important conditions for the preparation of any Georgian dishes. Diversity recipes are the envy of any cuisine of world importance. Here are respected riches scorching kharcho cool and spicy soup with yoghurt. Fresh cilantro, basil and tarragon, and used in salads and hot masterpieces of Georgian cooks, as well as local suluguni anywhere in the world.
A special pride of restaurants in Georgia - saucesbased on hot pepper, plum or tkemali. They are not worth comparing with the high French cuisine products, because food is not important for Georgians foppery, and the breadth of the soul, good company and the generosity emanating from each spoon.
Omitting formalities
These restaurants in Georgia is difficultclassify. If the soul needs a truly Caucasian cuisine, you should choose not the most conspicuous places, the entrance to which can be completely hidden in the old Tbilisi courtyards, and the sign - darken from past years. Normal "tavern" here is a place where to go will be absolutely impossible because the solid portions, so that the waiters in a fatherly care and attention. By the middle of the meal from the kitchen there is often a host with a bottle of "Kindzmarauli" because why would not join a nice and kind guest ...
Reputable restaurants in Georgia are also present, andatmosphere reigns in them no less welcome. The amount in the account Europeans do not seem unusual, because Georgians are increasingly trying to match the categories of the Old World. In these halls in the evenings often sing male choirs, whose voices moisturize the eyes of visitors and cause treacherous tweaking their noses.
Any Georgian restaurant ensures dishesfresh food, fantastic portions, care and attention of waiters and a special relationship to each dropped in. Here, guests are greeted and escorted friends, and if only so here is sure to fly.
Photo