Activities in Georgia with children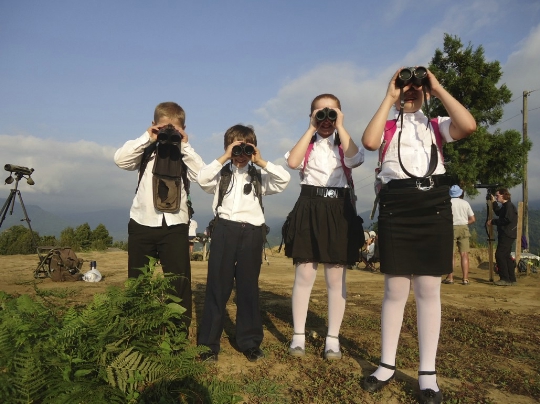 Most blue Black Sea, the magnificent mountainlandscapes, pristine beaches, legendary hospitality, famous dishes from the menu of any restaurant, and a rich cultural program for fans of active and cognitive rest - in Georgia with the children to relax so that the impressions will remain for years to come!
"For" or "Against"?
The vast majority of the arguments for the holidays inGeorgian children survived many years of test, because even the parents of today's moms and dads once carried them to the sea on a hot Batumi beaches. Modern Georgia, as before, is pleased the Russian travelers, and to the younger generation here and reverent attitude at all, and especially gentle. Other delights of rest in Georgia with the children already open when coming off the ramp or the footboard of the train:
The climate in the resorts of the country - is subtropical and very comfortable for both children and adults. The swimming season begins in late May, and even kids can enjoy some water to the middle of autumn.
The hospitable people willingly losing their houses and apartments for travelers, but because of the travel budget can stand out from spending on other foreign resorts.
Georgia allows Nature to diversify leisurescenic excursions in the mountains or the national parks and historic sites like the young fans of chivalry and adventure stories.
Kitchen Georgia is very diverse and some of itsmeals are excellent, even the smallest. In addition the hotel or guesthouse you can always ask to cook something especially your favorite kid, because Georgians adore children and are willing to indulge in any of their whims!
Preparing properly
The hot sun would require for a vacation in Georgia with children cream with a high protection factor and panama. Comfortable shoes for walking in the surrounding botanical gardens, and amusement parks are also desirable.
Book hotel room at the family hotel or private accommodation can now be on the specialized resources on the Internet. It will cost a little bit cheaper than the payment on the spot numbers.
Passwords turnout addresses
Permanent leader in the number of arrivals atRest in Georgia with the children of tourists - Kobuleti resort 20 kilometers from Batumi. The sea here is cleaner, less people, the evenings are not so noisy, and the choice of food in restaurants is impressive even seasoned travelers.
In the Batumi children will enjoy a visit to the Dolphinarium, entertainment at a local water park and walk through the oldest botanical gardens in the Caucasus.
Photo