Where to rest in Georgia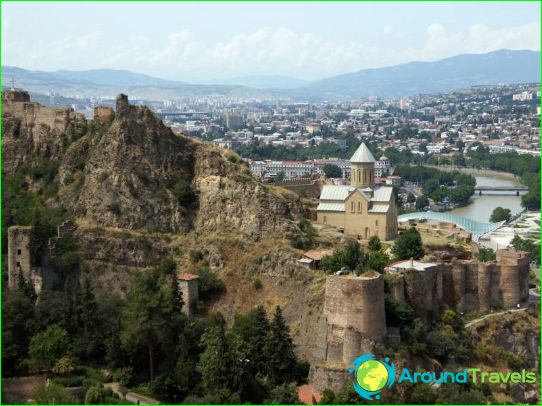 Anyone who has ever visited in Georgia,forever remain fascinated by the ancient history of the country, the unique beauty of landscapes, national tunes and smooth warmth hospitality of the Georgian people. It's hard to say where to go for a vacation in Georgia, because each of its area is beautiful in its own way, and get enough variety in this country is impossible. World-famous wines and unique cuisine, the unique monuments - is manifested in all the brightness of Georgia and a sincere love of life of people living there.
Georgia - a country with a rich landscape, beautifulclimate and excellent infrastructure. To get to Georgia is not difficult, and those who decided to spend their holidays in this wonderful country, providing services to a number of resorts to suit every taste:
mountain resorts - Bakuriani, Gudauri, Bakhmaro;
seaside resorts - Kobuleti, Ureki, Chakvi;
spa resorts - Sairme, Tskaltubo;
balneoclimateric - Borjomi, Java.
The whole family vacations
Those who are accustomed to rest a big happy family,it is recommended to visit the seaside resorts of Georgia. For families with children is perfect for the world-famous resort town of Batumi. Warm sea, cozy beach, unique cuisine and great wine to help relax the parents and the children like to visit attractions, Batumi Dolphinarium and Zoo.
Fans of a more secluded and relaxing holiday will enjoy the resort of Kobuleti, where the warm sea, a small pebble on the beach, and tea and bamboo plantations delight the weary eyes.
Among the seaside resorts of Georgia's growingIt is gaining popularity Ureki where the adults relax on the sandy beach near the clean sea water, and children will be delighted by riding the ship and plenty of opportunities to eat fruit.
Leisure
On the mountain resorts of Georgia this expanse forthose who do not accept lying on the beach, but prefers to move and extreme. Those who like recreational sports - ski resort of Bakuriani with comfortable lifts and well-equipped routes for both experienced and novice skiers.
Fans of snowboarding and freeriding, and wishingparagliding will remember holiday at the mountain resort of Gudauri and diving devotees will get a lot of positive impressions of the rest in Kvariati.
Cultural and educational vacation
Inquisitive travelers who are interested into know the culture of different countries and eras, Georgia certainly seem a fount of historical and architectural values. Perhaps there is no place in Georgia, where there would be no palaces, cathedrals and museums. The country is very respectful of the cultural heritage and carefully take care of the sights.
Those who want to feel the beauty and historyGeorgia, like have Abastumani resort, with its palaces and gardens, ghost town Uplistsikhe near Borjomi spa, cave complexes Tskhaltubo resort and memorable architecture of Georgia heart - Tbilisi does have the risk of losing his head.
Wellness vacation
Where better to go for a vacation in Georgia so as to combineKind with healthy? The answer is simple: in one of the spas. Balneological and Spa centers of Georgia is famous for its pine forests, healing the clean mountain air and, of course, mineral and thermal waters.
In addition to the well-known resort of Borjomi, shouldvisit Sairme where thermal waters miraculously help heal joint, pulmonary and gynecological diseases, Tskhaltubo resort with unique radon water, effective in the treatment of skin and cardiovascular diseases, as well as mud resort Akhtala.
Experienced travelers find that question: "Where better to go for a vacation in Georgia?" Not very appropriate, because the answer is obvious. It is better to ask, "When the rest of Georgia," And those who have already visited there, he replied: "Of course, in the autumn." It is in the autumn nature Georgia effectively blooming unprecedented riot of colors, and forget this amazing spectacle impossible. Heart enchanted fabulous views of Georgia, will pull back again and again.
Photos vacation in Georgia