Airports Hawaii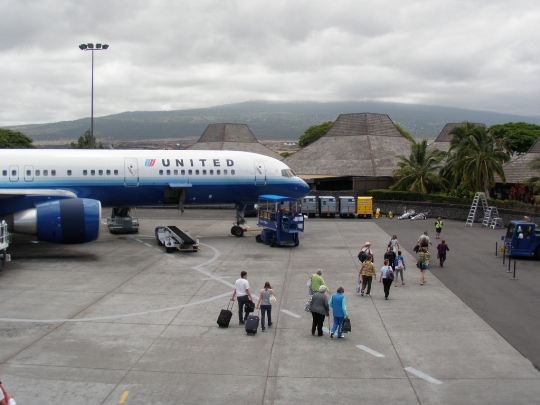 About two dozen airports Hawaiiserving millions of tourists who decided to relax on the paradise archipelago in the heart of the Pacific Ocean each year. For the Russian traveler prerequisite vacation in Hawaii is a US visa and help find the right airline minimal knowledge of geography.
Direct flights from Russia to the Hawaiian ArchipelagoIt does not exist, and therefore will have to get with transfers in New York or Los Angeles, which fly directly "Aeroflot" and American Airlines. Travel time is not less than 18 hours, excluding connections.
International airports of the Hawaiian Islands
Status of international in the archipelago has three main airports:
International Airport in Honolulu, Hawaii is located on the island of Oahu.
Hilo Airport - Air Harbor on the island of Hawaii.
Air port Kohn also takes tourists to the island of Hawaii.
Mainly it considered the Honolulu Airport, with a transfer in which you can get to the resorts and hotels in all the inhabited islands of the archipelago
Aloha, Hawaii!
Honolulu International Airport - the largest portfifty states in the United States. It serves as a hub for Hawaiian Airlines, and takes in his field planes of other airlines. This fly United Airlines, Japan Airlines, China Airlines, Air Canada and the Jetstar, on whose wings you can go to many United States cities of Nagoya, Osaka and Tokyo, Sydney and Vancouver.
Each of the three airport terminals performsits objectives - international receives foreign sides and planes from the mainland, a small flight terminal serves local airlines flying between commercial airports of the archipelago. The third terminal is also used for flights within the island state.
Transfer to the city by taxi and carriedpublic transport, bus stop 19, 20 and 31 are located at the terminal in the relegation zone. These routes connect the largest airport in the Hawaiian Islands to the city center.
All the details on schedules, services and departures is available on the website - www.honoluluairport.com.
Spare airfields
Kona International Airport on the island of HawaiiIt serves the resorts in the North Kona and South Kohale. The only passenger airport terminal takes passengers from Canada and the US, New Zealand and Australia. These airlines fly WestJet, US Airways, United Airlines, Air Canada, Alaska Airlines and some more involved in transportation of passengers within the US.
To pass the time waiting for a flight, the passengersThis airport can visit an interesting museum of memory exposure astronaut Ellison Onizuka - native Kona. Among the main items - personal astronaut spacesuit and a sample of lunar soil.
Hilo Airport serving the resorts east of the island of Hawaii. These flying United Airlines from Los Angeles and landing aircraft for domestic flights from other parts of the Hawaiian archipelago.
Photo