Resorts Hawaii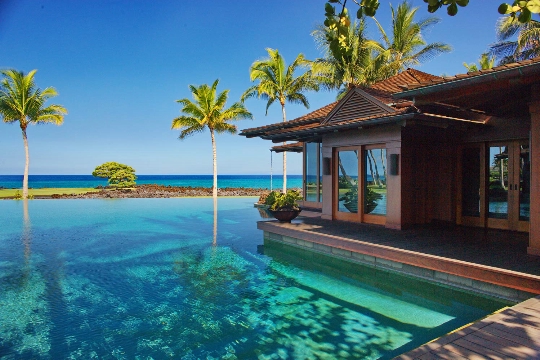 Hawaiian archipelago in the heart of the Pacific Ocean- An oasis of harmony and pleasure. The average American flies to the resorts of Hawaii at least once in life to see tropical flowers and trees, magnificent beaches with black and white sand and hear the greeting "Aloha!" To indicate that the time has come to rest without regard to the left of the house. On the magical island increasingly arrive and Russian fans of vivid impressions. The archipelago is able to surprise and win their hearts, not only a high level of service, but also the wonderful natural beauty, the likes of which the world will be able to find a few places.
"For" or "Against"?
Undoubtedly, the doubts about the wisdom recreationHawaii resorts occur in anyone whose home is located in the eastern hemisphere. And the main argument "against" - the duration of the flight. At least 19 hours of pure time have to spend in the air Russian citizen, whose flight begins in Moscow. If we add here the need for a tourist visa in the US, who want to go to Hawaii once it becomes much less.
Still, the island paradise worth topay a visit to the Embassy and to consider the best deals airlines! Hawaii Vacations would be with nothing comparable pleasure, remember that it will be pleasant for many years.
Always in the TOP
Diverse and from the point of view of natural landscapes and infrastructure sense of Hawaii's resorts provide the opportunity to choose a place to relax any traveler depending on your preference:
Oahu Island - Hawaii's most developed resort withthe point of view of all kinds of infrastructure. Here is the city of Honolulu - the capital of the state, and there are many hotels of different denominations. Main feature of the island of Oahu - ideal conditions for surfing. Especially those famous north shore, where many schools open and staffed by professional instructors.
The resorts of Hawaii on the island of Maui hangparticularly wealthy travelers. His business card - perfect golf course for which the true worshipers ball and putter are able to fly over the ocean-floor. However, the beaches on Maui are considered no less steep and their names are constantly flashing in various rankings. Windsurfing on the island prefer high waves of fans. Especially their famous Gulf Gonolua Bay.
Photo