Tours in Honolulu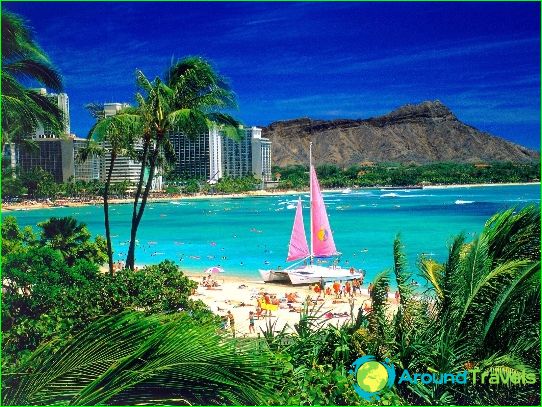 This famous resort of world importance -cherished dream of not only Americans. Tours in Honolulu, buy and Europeans and Asians, and even the Australians. Still would! After all, look how live the most unusual state of the United States, relax on the stunning beaches and hundreds of photos to bring the unique nature of the islands would be desirable to anyone who prefers to explore the world, not only at the TV screen.
History and geography
Hawaiian Islands - a very unusual state, and themselvesAmericans find themselves on the islands, wondering how life here is not like the one to which they were accustomed in the daily hustle and bustle. Hawaii drifting in the Pacific Ocean, and the city of Honolulu is the state capital. Polynesians have conquered this land in the XI century and built a luxurious royal residence, preserved to this day. Europeans set foot on the island in the late XVIII century, Russian explorers first came to the port of Honolulu during a circumnavigation Krusenstern.
After World War II, the massthe construction of hotels. Tours in Honolulu have become quite familiar to Americans who want to relax in the lap of pristine nature, but at the same time aspiring to a certain level of comfort.
Briefly about the importance
For the tour in Honolulu need a valid US visa,and therefore buy tickets and book hotels after its receipt. Taking the contrary, tourists run the risk of losing some money, because for the US Embassy Consular Section presence of the paid tour, alas, is not more than a pretext for the approval of the request for a visa.
Wet and dry seasons on the island of Oahu smoothlyflow into each other, but most of the precipitation falls in winter. By April set enough dry weather, and the air temperature seldom falls below 30 during the day. The warmest water in the August-October, but in winter the temperature does not fall below 25.
To get to the resort, participants tours in Honolulufrom Russia are a few aviaperesadkami. The first is usually the case in Europe, and later - on both US coasts. Flight from Los Angeles to Hawaii lasts just over five hours.
Excursions to the US air base at Pearl Harbor and inHawaiian kings palace - the most popular in the framework of tours in Honolulu. Of no less interest among visitors to the city is a visit to the Polynesian Cultural Center.
The curriculum of Hawaii is the subject ofwhich students of other cities and countries can only dream of. Surfing lessons are mandatory and therefore every student here can conquer the waves and show a great possession of his body. The best surfing beaches - North Store and Kaylua.
Photo