Airport in Reykjavik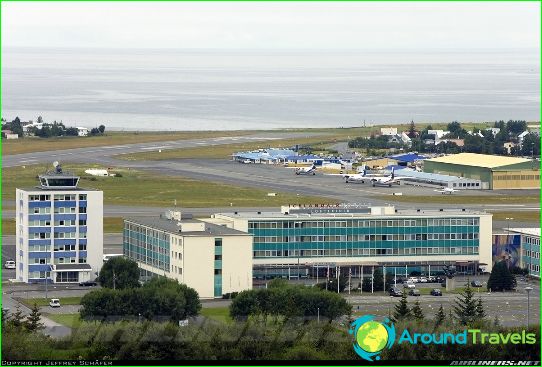 By Icelandic city Reykjavik include 2Airport. One of them serves only domestic flights, and second only to the international. Accordingly, the largest of the two airports one that complies with international flights, so the main focus of the review will be made precisely on this airport.
Reykjavik Airport
Reykjavik Airport is located approximately twokilometers from the city and is responsible for the most part of domestic flights. International flights are made only in Greenland. This airport can not have the status of principal due to lack of equipment, its runways are very short, which does not adequately cater for large aircraft. The longest streak - 1567 meters. In addition, the airport is used for planting as a spare, in bad weather conditions on the territory of the second airport.
Airport Reykjavik-Keflavik
This airport is the largest in the country. It is located about 3 kilometers from the town of Keflavik, and about 50 kilometers from the city of Reykjavik. The airport is used as a main hub for international flights. Every year served more than 1.7 million passengers. It regularly engaged on voyages in the USA, Canada and Europe.
Airport area is about 25 square kilometers. The airfield has two runways length of 3054 and 3065 meters.
services
The airport has only one terminal, whereinit is difficult to get lost. In 2001, the terminal has been significantly increased and modernized in accordance with the Schengen Agreement. It is worth noting that in the terminal building is forbidden to spend the night.
For passengers the airport in Reykjavik offers everything you need on the road: cafes and restaurants, ATMs, currency exchange, luggage storage, post office, shops, etc.
Transport
From the airport to the city established only for transportation. the terminal itself is divided into two parts, on the one hand buses in the city, on the other - buses arrive at the airport.
Time to Reykjavik is approximately 45minutes. Buses to the central station, the schedule is adjusted according to arriving flights. From the bus station you can reach the city's airport, which provides domestic flights.
Also to the city for about 70 euros you can get a taxi.
Photos Reykjavik Airport