Reykjavik - capital of Iceland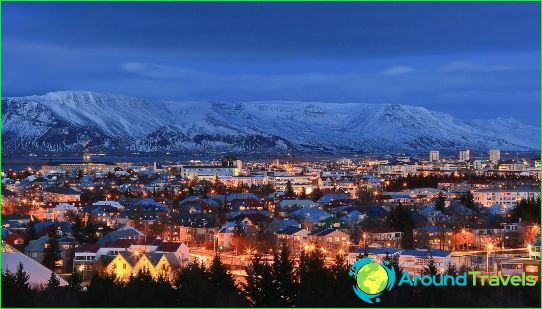 Reykjavik is not only the capital of Iceland, but alsothe largest city in the country. In principle, the capital of the area is not so enormous, as tourists are increasingly convinced that it is possible to get around in just half a day. If you do not pay attention to the fact that the city is relatively small, there is everything you need for the modern traveler: the main street, the main square with cafes, cathedral, many attractions, and even swimming pools with mineral water.
Museum of photography
The museum has on display visitors have the best pictures as professional photographers and amateurs to capture the moment. The oldest exhibit of the museum - a photograph taken in 1870.
If we talk about the theme of the exhibition, it is quite varied: from family pictures to photos of beautiful scenery. Here you can see the photo story and the country.
A collection of photos can be divided into twocategory: album of photos and portraits. It is worth noting that the exhibition presents not only the work of Icelandic artists and other famous artists of the world.
Hallgrímskirkja
The building can be seen from anywhere. The temple is the largest religious structure in Iceland. The church has a very unusual architectural solution. It is crowned by the 73-meter tower, and the walls are more like rocks of volcanic origin. On Sundays the service is conducted here.
Perlan
Pretty unusual structure, clearly stands outagainst the backdrop of city buildings. Previously, the city was heated by hot water, which is stored in huge tanks. Now they serve as a support for the glass dome that houses a restaurant and observation deck. Place under the dome is also not empty. There is an artificial geyser and one of the tanks became the museum's location wax figures of Vikings.
House Höfði
This is a historical place. It is in its walls, Mikhail Gorbachev and Ronald Reagan framed their signatures to the agreement, the Cold War ended. Originally the house was the property of the French consul. It stopped Marlene Dietrich and Winston Churchill. Legend has it that the ghost of the White Lady dwells in the house. According to one version, it is a suicide, others claim that the woman - the victim of a terrible crime.
Sun Voyager
Not far from the Haven House you can viewsculpture titled Sunny traveler. It is a huge skeleton of ancient Viking ship. The best time for viewing - sunset.
This is the work of Icelandic artist Jon GunnarArnamona was established here in 1990 and was the last creation wizard. Visually, the monument is very similar to the Viking boat. But the master positioned his work as the pursuit of a dream. In his opinion, it is the hope of opening still unexplored land.
Photo