Alone in Iceland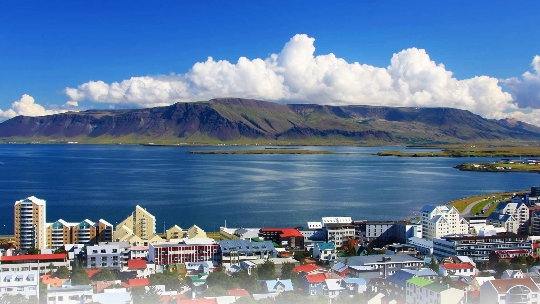 Fjords and glaciers, waterfalls and geysers - the mainIcelandic sights. The small European country offers amazing natural scenery, especially the kitchen and the ability to merge with nature, even during normal walking on the outskirts of the capital. Alone in Iceland sent photographers and romantics, lovers of birds and lighthouses, and all those who prefer the hot beaches moderate northern charm.
entry formalities
Iceland require an entry visa for the Schengena resident of Russia. The package of documents required to obtain it, is standard and includes hotel booking, round trip tickets, and guarantee financial solvency.
Get yourself to Iceland from MoscowTransit can only transfer in one of the northern capitals of Europe, but from Peter Icelandic airline operates direct flights. If the tour includes visits to Denmark, you can take the ferry that connects Copenhagen and Reykjavik.
Crohn's and spending
Iceland - a very expensive country, although its currency -Icelandic krona - is not distinguished by a special weight. You can exchange euros or dollars on the crown can be in any bank office, with fees of around US $ 2.5, regardless of the amount of convertible money. Credit cards are accepted everywhere - both in the capital and in the provinces.
Prices in Iceland look space compared even to other European countries:
Dinner at the restaurant for two with wine can pull 20 000 kroons, and a bus ticket from the airport to your hotel - for 2000 CZK.
Five minutes in a taxi in the city will cost 125 kronor, and a liter of gasoline - in the 500. At the same time the price of a rental car and did seem exorbitant.
Budget Meals can be in the street cafes Fastsupply. There will be able to buy a hamburger for 1000 kroner and a sandwich - for 500-700. A cup of coffee will cost 350 kroons and scoop of ice cream will be able to treat yourself to 300.
Prices for hotels and private apartments in lowThe season starts from 6000 CZK, and they literally soar high and increased in two or three times. Some hotels included in the list of services and the transfer from the airport, so that the reservation is necessary to pay attention to this point.
Log in to the natural attractions of charge. When planning a trip to Iceland alone, keep in mind that some geysers and waterfalls can only be reached by a rented car.
Photo