Rivers of Iceland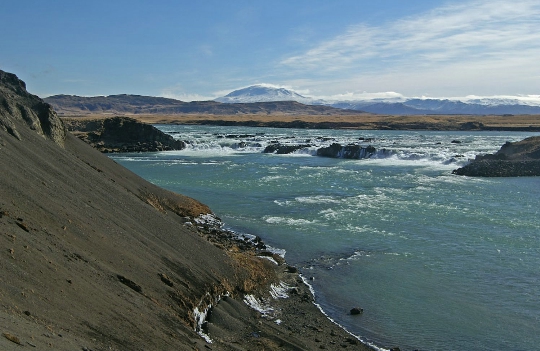 Icelandic rivers are distinguished by numerous rapidsand very fast-flowing, which makes them non-navigational. The main power source - glaciers. For Icelandic rivers are characterized by severe floods. And the reason for the floods are subglacial eruption of volcanoes.
River Þjórsá
Þjórsá is the widest and longestFrozen river island - 230 kilometers. The place became a source Hofsjökull glacier and river flows in the waters of the Atlantic. In the upper reaches of the river is covered with ice.
River Jökulsá á Fjöllum
The total length of the river - 206kilometers. And this is the second longest river after Þjórsá. The source of the river is among the Vatnajökull ice - the largest glacier in Iceland. Coming down from the mountains, Jökulsá á Fjöllum rushes to the north, where it empties into the water Skyaulfandi Bay (Greenland Sea, the Arctic Ocean).
In Iceland, many waterfalls and the two mostknown - Selfoss and Dettifoss - are found on this river. The bed of the river flows through the Grand Canyon, located in the national park Yёkulsaurglyuvur.
River Ölfusá
River channel runs along the southern part of the island. The source of the river becomes the confluence of the rivers hvita and Cor (Mount Ingolfsfyal).
Initially Ölfusá has a greater width, butthe approach to the town of Selfoss, it narrows and passes through huge lava field Torsarhraun. After reaching the surface, the river becomes wide again. The confluence of the waters of the Atlantic Ölfusá extended to 5 kilometers.
Ölfusá - the most abundant river in Iceland and during the melting of glaciers, it poses a threat of flooding. The river is found a lot of fish of salmon species.
The river Jökulsá á Dal
Jökulsá á Dal geographically located inthe north-eastern part of the country. Source - Glacier Bruaryokull foothills (part of the Vatnajökull glacier). It flows into the river in the Norwegian waters of the sea. The river runs along the bottom of narrow canyons, and because it features rapids and winding utterance. The total length of the river - 150 km.
River Skjálfandafljót
Skjálfandafljót The channel runs along the northernthe islands and has a total length of 178 kilometers. The source of the river is located on the border of the glacier Vatnajökull. Place confluence - Skyalfandi water of the fjord. On the river there are several waterfalls, one of which Godafoss - most visited waterfall in Iceland.
The river Blanda
The source of the river is located in the south-western part of the glacierHofsjökull (800 meters above sea level). Place confluence - water Hunafloui Bay (blönduós village). The total length of the river bed - 125 kilometers. In the waters of the river found a lot of salmon. Every year there are caught up to 3000 copies.
Photo