Tourism in Iceland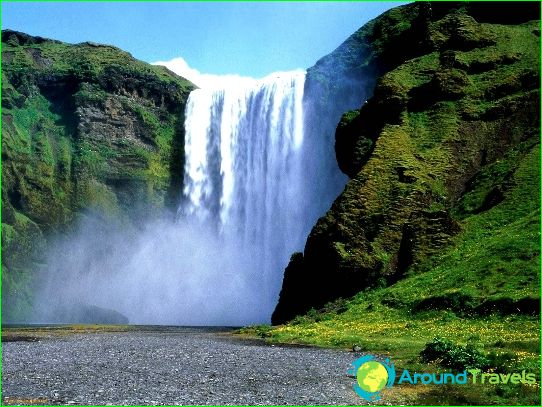 The most amazing country in the world, its landscapescan become chic decorations for every film in the genre of science fiction. Only here you can be alone with yourself and the Almighty, hear real quiet, get a full range of relaxation and relax in the Blue Lagoon.
Tourism in Iceland is quite expensive,Only because of the fact that still need to reach the country. But the guest for the first time set foot on Icelandic ground, just does not want to leave. It is impossible to leave the Valley of Geysers, wonder continually shoots up hot jets, or break away from the delicious herring, rightfully earned the title of the Icelandic gold.
Hotels in Iceland
For stays of tourists there are expensive hotelsexcellent design and a quiet cozy apartments. Familiar classification is not here, the National Tourism Office has developed a sophisticated division into five categories system for determining the management of the hotel should consider about a hundred parameters. In Iceland, the representatives of world famous chain hotels.
Seafood
Most tourists come to this country,to admire the unreal landscapes and taste the local cuisine. Its main advantage - the wealth of seafood, used for the preparation of various dishes. Used all known and rare species of fish, including halibut, cod, herring, sharks, shrimp, scallops and other small inhabitants of the sea depths.
Alone with nature
Among the main attractions in Iceland leading geysers, glaciers and the volcano Hekla. Many tourists go on island or Vestmanskie Godafoss waterfall.
Western Fjords - another object of attention of tourists as locals here are very small, so on some days their number compared with the number of guests visiting.
Some areas resemble lunar landscapes,dotted with craters with solidified lava, next to them is quite terrestrial, idyllic landscapes, like the peaceful green meadows with peacefully grazing sheep and horses.
Another direction of tourism in Iceland - this treatment, recuperation. Local scenery, silence, peace and comfort helps get rid of stress, nervousness, composure back.
There is also the active tourists who are engagedhang-gliding, or storming the local mountains. But the most daring travelers go on a tour of the city, is completely covered with ashes, gift awakened volcano.
Photo