Tokyo Airport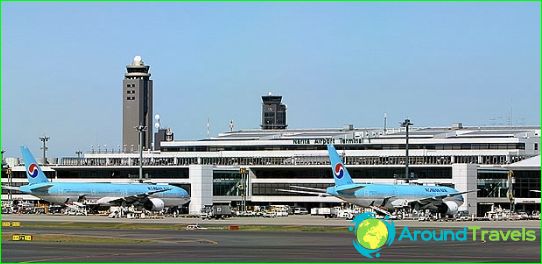 Tokyo, Japan 2 service Airport - Haneda and Narita.
Haneda Airport
Haneda was originally the main airport of the capitalJapan. However, today he divides his status with another airport - Narita, which will be discussed below. Haneda provides most flights within the country, as well as some international charter flights.
Over the past year the airport more than 60 million passengers were served - the second and the fourth figure in Asia and the world, respectively.
Haneda Airport has 4 runways.
Terminals and Services
The airport has three passenger terminals:
Terminal 1, opened in 1993Is the main airport terminal, with the terminal 2. In this terminal, passengers can take advantage of a variety of services. Cafes and restaurants, a large shopping area, as well as an observation deck on the roof.
Terminal 2 is open from the end of 2004. Here passengers will also find a variety of cafes and restaurants, shops, etc. It is worth noting that the hotel is located in the terminal building, which has 387 rooms.
The international terminal is regularly served by charters - in Seoul, Shanghai and Hong Kong.
Transport
The easiest way to reach the city by train. Terminals are 2 monorail station and a railway. In addition, you can use the bus service, which departs every 30 minutes, or a taxi.
Narita Airport
Narita International Airport is located inthe same city, 75 km from Tokyo. It serves the most international flights and some domestic. The airport has 2 terminals, communication between which is carried out transport.
services
Airport to Tokyo Narita airport is considered to be first class, respectively, are a passenger can expect a variety of services.
First of all it should be said about the duty-free zone - this is the biggest free trade zone in Japan.
Of course, the terminals are other useful services: cafes and restaurants, ATMs, post office, etc.
At the airport baggage delivery service is offered anywhere in the country, the cost of such services ranges from $ 25.
Getting there
Narita Airport is quite far from Tokyo, so the quickest way to get to the city - it's high-speed train. The journey time will be about one hour.
Buses and taxis will have to spend much more time on the road because of traffic jams.
Photos Tokyo airport