Tokyo Areas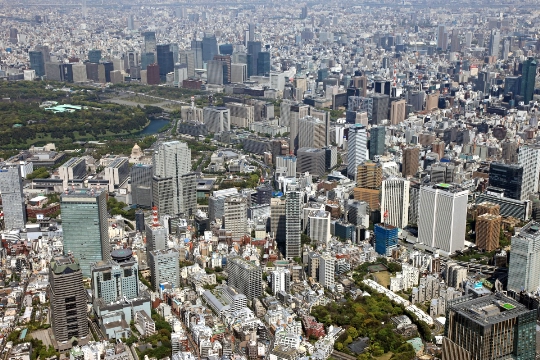 Looking at a map of the Japanese capital, can beto consider areas of Tokyo - they represented 62 administrative units from the villages and rural communities, and among them is the 23 special district. These areas include Shinagawa, Minato, China, Shinjuku, Taito, Sumida, Adachi, Toshima, Suginami, Edogawa, Katsushika, Arakawa and others.
Description of the main areas and attractions
Shibuya: Here it is worth paying attention to the Harajuku quarter (center street fashion) - on Sundays, young people clothed in unimaginable outfits, going on Takeshita Street (before you take a photo, it is desirable to obtain the consent of the youth). In addition, it is famous Meiji Shrine and Yoyogi Park (there is a stadium, ponds, lawns and lawns; the ideal place for a picnic, biking, running and other activities).
Chuo: This area is famous Ginza quarter (get ready for high prices) - here visitors will be able to walk along Chuo-dori street, visit the upscale restaurants and luxury boutiques, the fish market Tsukiji (Seen the best plan in the early morning - 05:00), in the theater Kabuki (guests waiting for presentation in kabuki genre, combining drama, dance and song). In addition, there is a building of "Sony" company (in the showroom, visitors will see the latest products and demo shows).
Minato: in Akasaka - Minato one of the blocks, you can visit the Akasaka Palace ( "Palace of the meetings"), National Arts Centre, and the Togu Palace complex Ark Hills. In another of its quarter - Roppongi - will be able to immerse themselves in the nightlife with clubs and other entertainment, as well as see the building "Tokyo Midtown" (a 248-meter tower, MoriArts Museum) and "Roppongi Hills" (height of the tower - 238 meters; and yet there is a Suntory Museum). By Minato applies also Odaiba (You can get here on the monorail or the sea tram) - to its landmark buildings include "Fuji TV", Ferris wheel and "Toyota Mega Web" (the showroom of the latest models of Toyota + car retro museum, an interesting fact that some items are used for self-testing by visitors).
Where to stay tourists
Going on a business trip, it's best to stay in the business district - Shinjuku.
For those interested in youth clubs and shops should look at hotels near Shibuya, Omotesando, Minato, particularly around Roppongi subway station.
Your goal - to explore the maximumSites? Pick a hotel close to the Yamanote subway station (tourists, shrunken in one of the trains, easy to get to any interesting tourist attractions of Tokyo).
If travelers are of interestbudget hotels, they will be able to find them in the Taito district, but in many of these acts "curfew" (it begins with a 22: 00-23: 00) - clarification of this question it is expedient to do in advance.
Photos Tokyo area