Christmas in Tokyo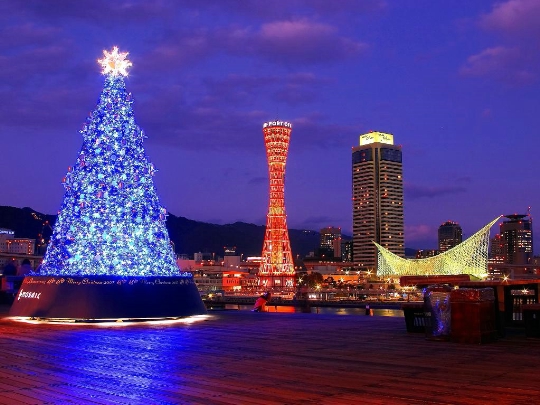 Travelers who will be on Christmas Day in Tokyo get to the city, "dressed" in a glowing festive attire (walking through the night the capital of Japan, you can enjoy the light show).
Features of the celebration of Christmas in Tokyo
Despite the fact that the Japanese (24-25 December are not holidays) do not celebrate Christmas, Christmas celebrations in Tokyo held on a grand scale.
For the Japanese, December 25 - not a religious holiday,but rather, Valentine's Day (as it is possible to experience difficulties with the order table, it is advisable to do so in advance): loving couples visit cafes and restaurants, while men often make their sweethearts marriage proposal.
The restaurants are arranged special programshowever, this fun cost the visitors dearly, and those who spend the day at home, regale red beans and rice, as well as sponge cake with cream or cream and strawberries.
By this time decorated with LEDs Tokyotower, trees growing on the street Omotesando, Tokyo Station in Marunouchi district, the facades of shopping centers, for example, Omotesando Hills (here set design tree of the Swarovski), restaurants and boutiques such as Prada and Louis Vuitton (thus, stores are trying to attract customers) . Tourists on holidays can spend the evening in the restaurants "Morimoto" and "Ninja".
Entertainment in Tokyo at winter vacation
From Tokyo offers travelers to go to a Christmas cruise for 1 night over the Pacific Ocean (on the liner arranged entertainment and banquet) - do not miss this opportunity.
It is to spend time on a winter vacation inTokyo Disneyland - here you can meet and take pictures with characters from Disney cartoons, ride the rides, for children and adults. And worth to visit Disney Sea and its thematic areas, where you can ride on a gondola, see the fountain show, ride the jet skis.
In Tokyo, be sure to stay until January 2,- This day (in honor of the New Year) from all comers a chance to visit the Imperial Palace appears. But this is another chance to fall on December 23, when the Palace is available for tourists in honor of the Japanese Emperor's birthday.
Christmas shopping in Tokyo
On Christmas and New Year holidays in Tokyoworth a visit Oriental Bazaar: flock here all who want to get a national kokeshi dolls, kimono decorated with cherry blossoms, embroidered with pictures of animals and other ornaments, lamps, crockery, pots for Bonsai, fans, and other gifts.
you can look at Roppongi Hills If desired,Christmas market in the traditional German style - here guests will be able to buy Christmas toys and other souvenirs, as well as to be treated with mulled wine and sausages.
Photo