Entertainment in Tokyo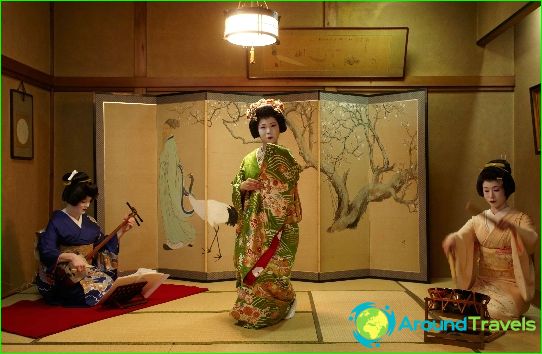 Most of the fun in Tokyo presented nightly entertainment, which you will find in the areas of Roppongi and Shinjuku.
Amusement Parks in Tokyo
Tokyo Disneyland: visiting it, you will not want to leave here, because in this fantastic corner there is a games room, a huge number of rides (roller coasters, a room with ghosts), cafes, toy stores.
"Tokyo Dome Amusement Park": for adults there are provided a roller coaster ( "free fall", "loop"), and the children will come to the delight of labyrinths, carousels, playgrounds with entertainment.
What kind of entertainment in Tokyo?
If you have a desire to enjoy the panorama of the metropolis, go up to the observation deck of Tokyo Metropolitan Government Building.
You want to try not only classical, but also ice cream with taste of squid, sushi or onions? Visit Cup Ice Museum (in the range always have about 400 kinds of ice cream).
You do not have to go to the Festival of subcultures,to make original photographs - enough to go on Sunday to the bridge Dzingubasi. On this day, there are going to representatives of various subcultures (hippies, anime, Goths) in appropriate attire - they are happy to agree with you photographed.
Well, you can spend time by going toYoyogi Park: here you can take a ride on a rented bike, have a family picnic, a stroll along the paths between the fountains, play on the lawn in sports.
Activities for Children in Tokyo
Child lock "Omotesando Children Castle": Here every child with educators and teachers look into the creative studio to learn how to make crafts from clay. In addition, children are able to visit the music room and video library, as well as climbing up the ropes, engage in research and labyrinths of tunnels, spending time on the bike site ive pools filled with water or colorful balls.
Studio Ghibli Museum: then tell your child about popular cartoons, anime and how they are created.
Tire Park "Nishi Rokugo": in this park every child will be able to admire the extraordinary sculptures and ride the rides made from car tires.
"Ueno Zoo" Zoo: here in your child's eyes literally run away from the number of inhabitants living in the zoo (a few thousand of them here).
Younger guests will be offered to pet goats, donkeys, ponies, guinea pigs and pick up rabbits, hamsters and other animals.
While vacationing in the capital of Japan, be sure to head to the sea cruise or a walk through Tokyo Bay, stroll through the many parks, visit the National Japanese Kabuki theater.
Photo