New Year in Tokyo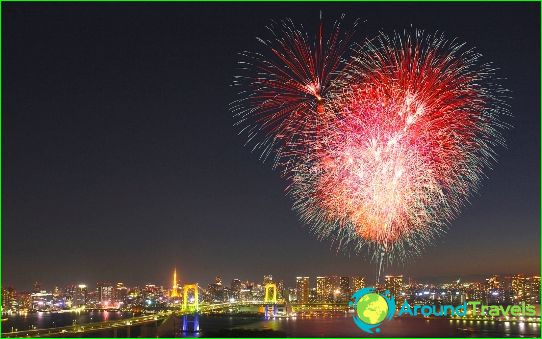 Japan - one of the most progressive states inthe world, which, however, are not often visited by our fellow citizens. The reason for that flight and distance, and the cost prices of tourist packages. But where, if not in the favorite childhood holidays pampered and aim a blow at this unusual scenario - New Year in Tokyo?
City, pleasant in all respects
The capital of Japan - an amazing place. It came together age-old traditions and the inviolability of the most progressive invention of mankind, the apparent stiffness and closeness of its people and their wonderful disposition of the guests, eastern exotic and familiar Christmas traditions already everywhere.
The temperature in December and January in Tokyo does not fall below + 8-10 degrees, so walking on the metropolis, which these days is colored with a myriad of fairy lights, it will be quite comfortable.
However, if the New Year in Tokyo please suddenlysnow, do not worry. The city opened thousands of nice places where you can not only keep warm and wait out the elements, but also great to celebrate. In addition to traditional Japanese restaurants, Tokyo is pleased to offer its guests the ethnic cuisine of almost any country in the world.
Photos of New Year celebrations in Tokyo