Prices in Tokyo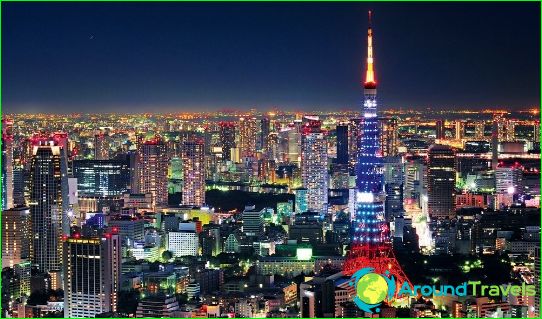 The most important international financial centeris Tokyo. It is the capital of Japan and one of the most expensive cities in the world. Prices in Tokyo are high. Get ready to spend money, if you want to see the sights of the city. Today, Tokyo is the most populous city in the world and noisy.
To visit the capital of Japan, the Russian citizen need a visa to this country. The official currency is the Japanese yen, so internally uses this currency.
Accommodation
Tokyo hotels are considered quite expensive. In the little town of hostels, where you can take the beds for a nominal fee. To spend the night in the common room is available for $ 20. But this place is very difficult to find availability. Basically, 1-2 * hotels offering rooms at $ 40-70 per day. Hotels 3, 4 and 5 * cost in $ 80-300. Hotel with an average level of comfort is worth $ 100 per night. This amount includes the cost of breakfast.
tourist Meals
Prices in Tokyo for high products. For example, 1 kg of fish worth $ 12, 50 grams of ham - 2 $, baking - about $ 2. Many tourists prefer to eat in the cafes and bars of Tokyo. Breakfast there will cost $ 8-10, lunch will cost $ 12-16. In the local restaurants you can taste excellent rolls, sushi, sashimi and other Japanese national dishes.
Excursions and Entertainment
The cultural tourist program usually includesvisit the temples of the city. They can be inspected free of charge. To get to the observation deck of a skyscraper, you have to pay 9-20 $ (it depends on the type of building). Entrance fees to museums sell for $ 7.5.
In Tokyo, the most interesting objects areUeno Park, the Botanical Garden Tsukuba, television tower, government building, Tsukiji Fish Market, Meiji Temple, and others. Visit these places can be by itself or in the guided tour. For individual sightseeing tour of the city you have to pay $ 500. Individual excursion to Mount Fuji is worth $ 650. Group tours much cheaper. Visit Ueno Zoo is available for $ 35. Group walk in the bottom of the Tokyo city is almost $ 100 per person. Take a walk along the shore of Tokyo Bay in the company of other tourists and Russian-speaking guide is available for $ 50.
What to buy a tourist in Tokyo
In the capital of Japan, travelers gainsouvenirs. Popular figurines made of wood and porcelain, boxes, lacquered chopsticks and plates. These gizmos are for $ 4-6 apiece. Jewellery from pearls cost $ 500 or more, and scarves of silk sold at $ 35. Tourists willing to take on seafood. For this purpose, better to visit Tsukiji fish market, which is considered to be the best fish market of the world.
Photo