Tokyo Streets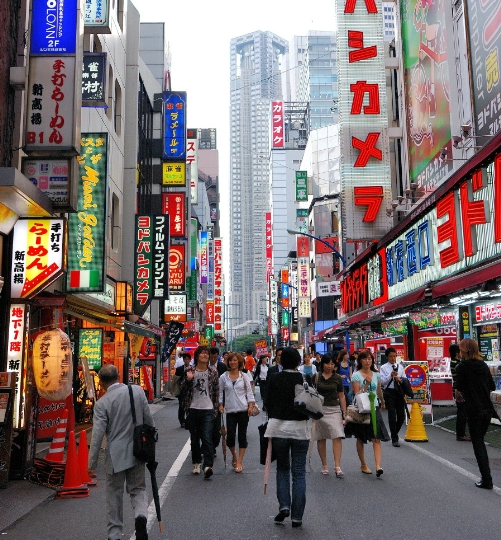 Tokyo is considered sverhgorodom in which Eastculture merged with the west. This city can not be considered as the oldest settlement in Japan. He appeared in the 15th century and was built wooden houses. Modern Tokyo streets are different lots of skyscrapers and a busy road. 25 cities are included in the metropolis in addition to Tokyo, the seven towns, 23 districts and several villages. The core of the city is the historical part of Edo.
Famous places of the city
Central street is Ginza. There are no historical monuments, but there are a lot of shops. Ginza - the most popular shopping street of Tokyo. Shops and boutiques operate late. Tourists are attracted by stores' Mitsunosi "and" Matsui ", where goods are exposed to the spirit of the Japanese national culture. Ginza most spectacular at night when illuminated advertising diverse shops. Adjacent to the Ginza streets are full of bars, clubs and restaurants. Famous place is Harumi-dori Street, which is the theater "Kabuki".
Popular street Takeshita-Dori isonly for pedestrians. Here are a network of corporations like McDonald`s, The Body Shop and others. There are shops offering clothing, accessories and shoes for every taste on Takeshita-Dori. This place attracts fans of youth fashion.
Pedestrian street Harumi-Dori leads to the largestTsukiji wholesale market. It receives most of the products that are used by the inhabitants of Tokyo. The Japanese electronics and appliances can be purchased in the shopping district of Akihabara. This All-Japan electric Fair in whose territory operates more than 600 stores. Next to the market is the palace garden Hama-Rikyu, formerly a country house shoguns.
Walking around Tokyo, pay attention to the following attractions:
The palace and gardens of the emperor;
Tokyo Tower;
Meiji Shrine, established in honor of one of the emperors;
Happoen picturesque garden - a sample of Japanese art;
Buddhist temple in Asakusa.
Old buildings in Tokyo is small. Most of them were destroyed by an earthquake in 1923, and during World War II.
Features city building
Disposition of the city is very complicated. This is a traditional feature of Tokyo, originally emerged as a shelter residents during the internecine feudal wars. Foreigners are easier to navigate in Tokyo, using the division of the main areas of industry. For example, in the Ginza previously printed paper money, and now there are concentrated trade and finance. Tsukiji Fish is considered to be the area as well Yoshiwara - a place with loose morals.
Photos Tokyo street