Entertainment in Japan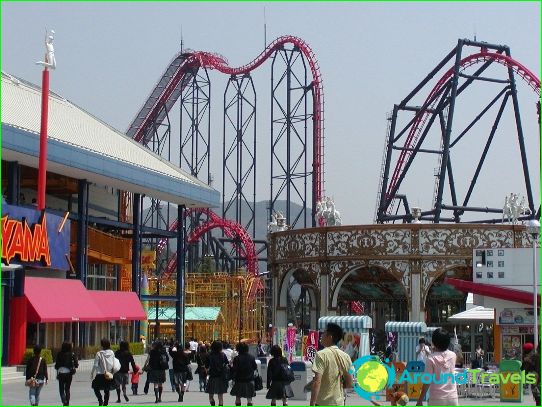 The country of the rising sun for a long time beenclosed to visitors and the first foreigner was able to get into the mysterious Japan just a half century ago. Entertainment in Japan quite unusual. So, in the spring most of the inhabitants of the country goes to contemplate, cherry blossoms, and in autumn to admire the purple maple forests.
Palette Town (Ferris wheel)
The sheer size of the Ferris wheel gives him the right to be called one of the highest. At a height of 115 meters, you can go up in just a few minutes.
A ride on the Ferris wheel, you will be able toa visit to the artificial island of Odaiba, located in the waters of Tokyo Bay. A bird's-eye completely open to visitors unique views of the ultra-modern skyscrapers. Tokyo from this height looks much more interesting than from the observation deck of any high-rises.
Especially unusual looks wheel at night. It is illuminated with colored lights, attracting the attention of all walkers.
Aquarium "Okinawa Churaumi Aquarium" (Okinawa)
This is probably the most unusual place thatcan be found in Okinawa. Imagine a huge reservoir of glass, with a total height of 22 meters. Behind thick glass are usual for living whale shark gracefully swim sea devils - the largest worldwide rays. And, of course, just an incredible number of sea creatures much smaller. After visiting the aquarium gives the impression that you walked according to the ocean floor.
Disneyland (Tokyo)
Established Tokyo "Disneyland" was in 1983and was the first amusement park of this type, do not open America. And although he has absolutely nothing to do with Walt Disney, but, nevertheless, it is a very popular place.
The highlight of the Japanese "Disneyland" were eightthematic complexes, and the latter simply amazing. This is an unusual Disney Sea ( «Disneyland on the water"), which offers its visitors a great number of water rides.
The park covers a vast territory and a walkon it is best to go on a fabulous train. Holidays do not stop here all year round. Here are the parades, the various processions, the reconstruction of the cartoon stories.
On several hotels built the park,a huge amount of restaurants, cozy cafes and, of course, an incredible number of attractions. And fun to taste and there are for adults, and for the youngest visitors.
Japan (promotional)
Photo