Japanese Holidays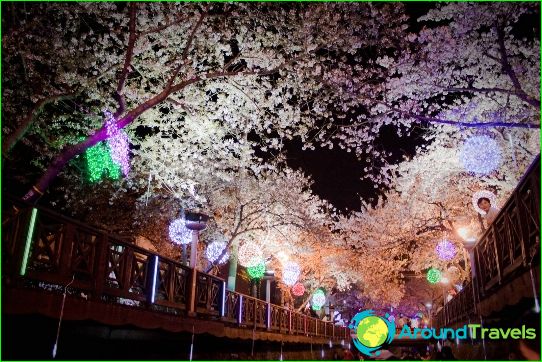 Japan Holidays - it's not only 15 officialholidays, when the Japanese have the right to rest, but also a lot of traditional festivals specific to certain cities and even villages, accompanied by dancing, singing, fireworks ...
The Japanese did not greet each other with the mostholidays. Exception - important events, such as birthday, the appearance of a child enrolled in the school. And on such occasions, the Japanese present each other with useful gifts - food, alcohol, soap, towels ...
Key Japan holidays
New Year: January 28 on December 04, resting the entire country and by this time in the homes established by the construction of pine, bamboo, fern, straw (as ornaments are the tufts of seaweed, tangerine, shrimp) - they are a symbol of the joy of the arrival of the festive deity. December 31 Japanese families gather around the abundant table, but it all goes pretty quiet. And at midnight, when their rights enters the New Year, you can hear the sound of bells (108 strokes), coming from the Buddhist temples, where each hit - a symbol of getting rid of the harmful passions inherent in the people.
Age Day: the second Monday in January is arranged a holiday for all Japanese who have just crossed the threshold of 20 years - they are endowed with the rights and responsibilities of adults, and it is from this age, they are allowed to smoke and drink alcohol. In honor of this holiday arranged ceremony, during which the boys and girls congratulate give parting words, give gifts, and then have a party.
Girls Day: on the 3rd day of the 3rd month of the girls clothed in elegant kimonos, they give gifts, treat sweets, allow to admire the dolls (Hina dolls exhibition) and go to visit her friends. In the form of a game for girls arranged training lesson - teach them good manners and curb their desires and whims.
Emperor's Birthday: December 23 the Emperor and Empress and Crown Prince brought before the people. And everyone in the afternoon can look to the palace to write greetings to the emperor in a special book.
Tourism Events in Japan
Arriving in Japan in March and April, you canadmire the cherry blossoms - in this time of blooming white and pink and white flowers on hundreds of trees, growing in gardens, parks, alleys. As a rule, enjoy the blooming of the Japanese sent the big companies. You may want to take with them an example and have a fun picnic, spread out (you can take with them or buy victuals and drink stalls located everywhere) on the lawns of parks mats or blankets.
Life is not only transformed the Japanese duringcelebration of national and professional holidays, but also for a small annual miracles, such as cherry blossoms, chrysanthemums, camellias, peaches ...
Photo