Subway Kyoto: circuit, photos, description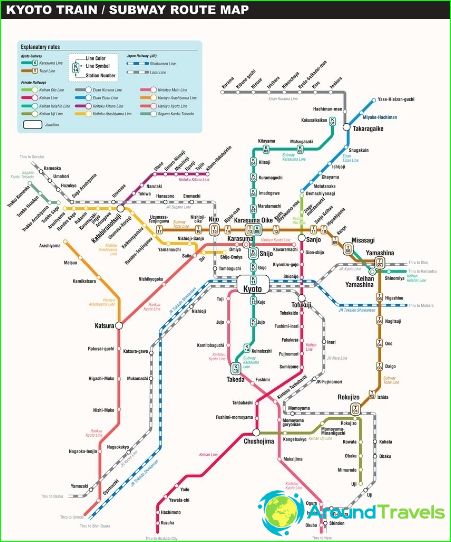 Driving Kyoto subway
Metropolitan Japan Kyoto former capital openedin 1981 year. It consists of two lines, the length of which a total of about 31 kilometers. On routes Kyoto Metro opened 32 stations that take a year at least 130 million passengers.
Entrance to the subway station, indicated by a white sign on a bright blue background. He is a figure similar to the triangle, located top down.
The first branch of the subway is called Karasuma Kyoto. It is marked on the maps of dark green and connects the northern part of Kyoto to the southern region. There the route continues as a railroad train on which follow in Naru. The very first section of this part of the subway opened in 1981, and today the "green" line already stretched nearly 14 kilometers. 15 work stations for passengers on the first route of the metro Kyoto. Branch laid across the main railway station Kyoto.
The second route to the underground Kyoto is redrefer to the diagram. This branch crosses the city from west to east through the center, where an angle of 90 degrees makes a turn to the south and ends in Rokudzidzo area. "Red" route became available to passengers in 1997, and then branch being completed until 2006. In her 17 stations are open for entry and exit of passengers. Move from one line of Kyoto subway to another is possible on Kakasumaoike station.
Hours Kyoto subway
Photos of Kyoto subway
Driving Kyoto subway