Dishes of Japan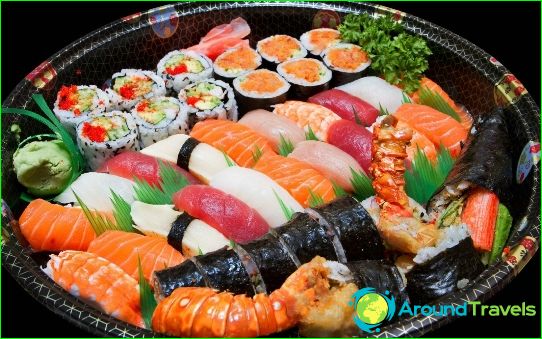 Kitchen of Japan is one of the mostoriginal in the world. Its features include the specifics of the choice of products, as well as tableware. For the Japanese, have a value of seasonal products, external beauty and serve. Serving is the most important section of the cooking.
Features cooking
Meals are always a reflection of Japan timeof the year. According to local people, every season has its own specialties. The freshness and seasonality of foods is highly valued by the Japanese. The amount of food supplied to the small table. In Japan it is not accepted to eat large portions. Meals are eaten so as to prevent a glut. The focus is on a variety of products and the method of preparation. A traditional meal consists of an abundance of small dishes with different foods. Aristocratic meal usually includes about 20 different miniature dishes. The national cuisine is no concept of a main dish. The Japanese also do not share food on soups, first, second, cold and hot dishes. They distinguish between the beginning, middle and end of the meal. Post lunch you can with any dish. Here on the table is always a green tea.
Seafood and fish
Japan is an island nation. Seas are full of various fish. Along the coast there are molluscs and crustaceans. Therefore, seafood and different fish - is the basis of power of the country residents. The Japanese use as sea grasses and algae. They produce more than 10 thousand sea animals, most of which are considered edible. Seafood have not fried, they adjusted to half, obzharivaya, or steamed. On the table seafood served almost raw. A popular festive dish is raw fish in season. Half-baked seafood retain the maximum number of useful properties. As a preventive measure the fish pre-soaked in vinegar. A common dish in Japan is sashimi - raw fish, cut into slices. Sashimi made to eat with wasabi and soy SOSUS. Many fish dishes Japan received widespread international fame. the land belongs to them (sushi). This dish has a pleasant taste and low price. In some cases marine use gifts not only cheese, but also in a live form. Such foods are designated "odori". Japanese eat live squid and perch. Pre perch scalded with boiling water, flavored sauce, cut into pieces and begin to eat, despite the fact that the fish is still alive.
Photo