Resorts Japan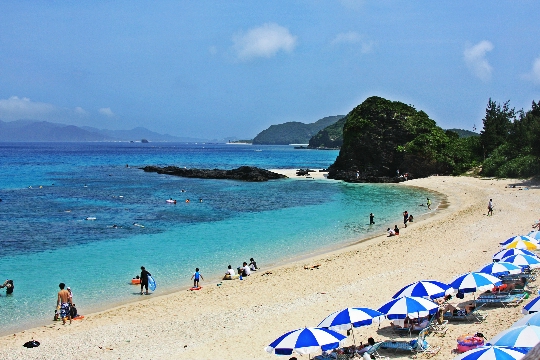 The symbol of the Land of the Rising Sun has always believedcherry blossoms against the backdrop of the snow cap of Mount Fuji. For local residents, there is nothing more beautiful than this landscape, which calms the heart and soothes the soul. But the guests of the country to meet on vacation alone is not enough of the sacred volcano. They want exotic, in all its senses, whether national cuisine courses on putting on a kimono or bathing in hot springs in the midst of the frosty untouched virgin snow. In Japan resorts come not too many Russian tourists - prices for tours to the Land of the Rising Sun quite noticeably bite. Those who decided not to be penny wise, discover the unique culture where every detail - a symbol, sign or attribute of something big and important.
Beach paradise Ryukyu
Archipelago with a cute name - itmore than one hundred and fifty islands, where the best beach resorts in Japan. Subtropics people here provide travelers a warm and sunny weather, the vast majority of months in a year, and get to the resort towns can be on a plane from Tokyo, prefectural capitals and some other countries in South-East Asia.
The most popular island resorts in Japan are famous not only excellent diving and comfort but also the rich possibilities for excursions:
On Taketomi island can take sunbath and consider the ancient stone buildings and the homes of local residents. As transport islanders still use carts pulled by water buffalo, and the menu of local restaurants - only healthy food based on vegetables and seafood.
The sandy beaches of Kume Island - not only their dignity. There have been preserved in excellent condition Ryukyu era monuments state that existed in Okinawa in the XV century.
Sexually mackerel and get acquainted with the rich underwater world of the Pacific Ocean can be in the resort island of Miyako, Japan. Local coral reefs are considered among the most beautiful in the eastern hemisphere.
Active and sports
Fans of skiing and snowboarding dreamto get to the winter resorts in Japan, which has created an ideal environment for practicing their favorite sport. Furano Resort in daisetsuzan National Park is famous for the high quality of snow and 23 tracks that have different degrees of difficulty. There are used to their skis and pros and beginners, and off-piste life abounds in the literal sense of the word: a resort famous for its hot springs.
Japan (promotional)
Photo