Japan River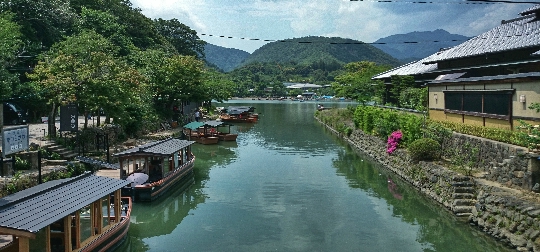 Japan - a beautiful island nation. Due to the peculiarities of the relief of the river of Japan can not boast a large extent. Total water of only a few countries arteries its length is greater than 200 kilometers.
Ishikari River
The river is located on the island of Hokkaido and is the longest of the local river. Its length - 268 km. The channel passes through the territory of the two cities - Sapporo and Asahivaka.
Translated name of the river sounds like "stronglywinding river ", that is completely untrue. But after the expansion of the city of Sapporo, the riverbed has been artificially straightened.
The source of the river - Ishikari Mountains, near Tokachi volcano.
River Tone (Tone-gawa)
Riverbed geographically belongs to the regionKanto. Its length - 323 km. And it is the country's second longest river. Source - Mount Ominakami (border PERFECT Niigata and Gunma). Place confluence - Pacific Ocean.
Locals call Tone slightly differently: Bando Taro. Bando - is the ancient name of the river, and the Tarot - the most frequent name that gives the oldest boy in the family.
In ancient times, the river often changed direction. The reason for this were frequent floods. Originally it flowed into Tokyo Bay and its tributaries modern - and Keanu Vatarse - were independent rivers. Conversion channel began in the 17th century. The river used to deliver the goods. Tonegava ceased to be the main transport route only in the 19th century, when the construction of the railway was completed.
Every year, every spring here competitions in kayaking and rafting.
Shinano River (Shinano-gawa)
The river flows through the territory of Nagano PrefectureTikumo and is the longest river in Japan - 367 kilometers. Shinano formed by the confluence of Sai and Dzikuma. Place confluence - Sea of ​​Japan (near Niigata).
Arakawa River
Arakawa takes place on the island of Honshu, and passes through the territory of the two prefectures of Tokyo and Saitama. The total length of the river - 173 km.
Arakawa Home is located on a hillside Kobus(Saitama Prefecture). Then she goes down and takes a southern direction, hurrying to the nation's capital, Tokyo city. The channel passes through the city streets, and then finishes the Arakawa path connecting with the waters of Tokyo Bay (near Haneda Airport).
Despite the fact that Arakawa - a small extent on the river, it is the widest in the country.
Photo