Shopping in Japan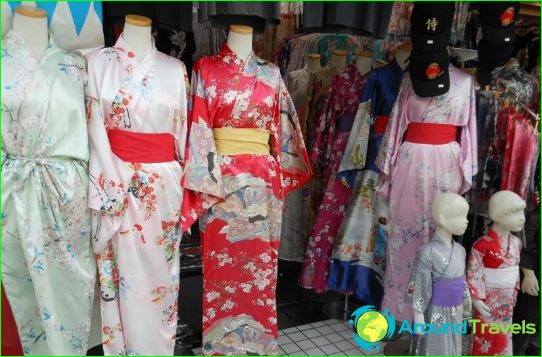 You get the pleasure of shopping in Japan, if you're a fan of this complex izmatyvaeyusche-pleasant experience.
In Japan, there is the usual department stores, only salescenters. The most famous - is Isetan and Odakyu prices on average and up to sky-high, low-cost products, you will not find here. A more democratic shopping can be done in Seibu, it's one of the biggest department stores in the world. For those who want to do some shopping at the same time, Japan and see the architecture, it will be a great place Mitsukoshi - it is a building of historical and architectural value. If you want to plunge into the atmosphere of the market - then you need to go to Parco, the department is working on just such a principle.
The network department stores Mitsukoshi, Matsui, Takashimaya and sales are often held close to the everyday clothing can be found designer clothes.
Popular shopping
Jewelry in Japan cost the same money as in Europe, but the design is very different, high test, can buy.
For those who come for different electronicwhat's new, here is a paradise - in Tokyo, in the town of Akihabara electronics showrooms manufacturers presented all the latest technological innovations. Prices for them - usually high, but cheaper than at home, but still all in stock. Pay attention to the Russification of purchased goods.
If you want to buy shoes made in Japan, it is represented by Diana mark. The quality is very good, different sizes.
From cosmetics Japanese production is recommended to buy the brand Shiseido, Albion, Kanebo.
Various souvenirs
If the purpose of shopping - authentic Japanese souvenirs, you can buy:
Puzzles for children and adults.
Figures Maneki-ieko - a cat with a raised paw, an amulet to attract good luck and wealth.
Towel tenugui with traditional designs - they can be used as a napkin on the table and the picture on the wall, if you rearrange it in a frame, and you can tie them down.
Veer and Wagashi - Japanese umbrella. Fans in Japan are popular to this day, a hot day in the street a lot of people fleeing from the heat with it.
Bells furin, Japanese lanterns from bamboo in a swirling spiral and chopsticks. You can buy it at every step.
Japanese shoes - wooden geta or zori more comfortable.
Kimono - you can buy a light summer - yukata, they are sold in many stores and souvenir shops, but it is better to buy at the clothing store - there are more choices and higher quality fabric.
Tea, in Japan it - several hundred varieties choose the taste and smell.
Biscuits with seafood or seaweed, sake, fruit, rice cakes and sweets, utensils for tea and sushi - as souvenirs you will definitely be a good choice.
Japan (promotional)
Photos of Japanese goods, shops and markets