Skiing in Japan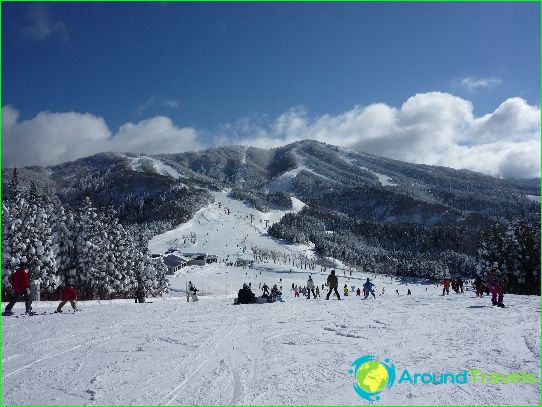 Japan - Country of ski and snowboard. Representatives of the Land of the Rising Sun with dignity at international competitions of the highest level, and the ski resorts of Japan are among the best in the world. This is understandable: it is difficult to deny the Japanese, so it is in the definition, organization and the highest level of technical equipment.
The equipment and lines
Niseko Hirafu - the largest on the island of HokkaidoJapanese ski resort. The sea of ​​snow and off-piste skiing - these are the characteristics give it a professional skiers. It is considered the best in the cohort of the country's international resorts. The season lasts for six months, and "black" trails for skiing guru more than anywhere else. 18 lifts to help athletes get to the start without queues and traffic jams, and makes a great snowpark Niseko Hirafu very popular and snowboarders.
The resort is on the island of Honshu Happouan famous forthat its tracks were sovrevnovaniya Olympics in Nagano. Luxury panoramic views of the mountains and difficult ski area - the main advantages of the resort. Start here can be in December and ends in May, but because riding in Happouan considered one of the longest. Trails resort service 23 lifts that provide the delivery of the athletes not only on the ski slopes, but also in a snowpark with figures for the boarders. The longest descent in Happouan is over eight kilometers and four runs suitable for beginners equipped.
Resort Niseko Higashiyama included in the total areaNiseko skiing, and is not only an enviable duration of the season, reaching six months, and the snow of the highest quality. four marked "black" Of the fourteen local runs, five - "red" and the other "blue". This suggests that the Niseko Higashiyama is more suitable for advanced athletes. Although the school for beginners on the slopes of the local open to all comers. Ten lifts provide uninterrupted schedule of skiing with the typical Japanese punctuality, and the highest level of local snowpark appreciates each visitor to the resort snowboarder.
Activities and excursions
In particular there is no Japanese resortsentertainment - here it is not accepted. But it is possible to make excursions to the nearby cities and the experience of the authentic culture and local attractions.
Photos Japan ski resorts