Osaka Subway: circuit, photos, description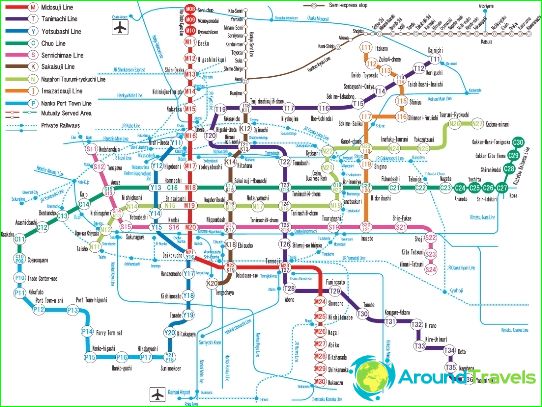 Metro map of Osaka
Metropolitan of the Japanese city of Osaka for the first timeIt opened in 1933 and is among the oldest in Asia. Today, it consists of eight active lines on which to sign-out and direct the passengers opened more than 120 stations. The total length of all routes Osaka subway is 130 kilometers. Daily Osaka subway services are used by almost two and a half million passengers, representing a year almost 850 million. All subway lines Osaka have their color-coded on the map chart. Line number 1 is marked red and is the oldest. It stretches from north to south, and the total length of its routes of almost 25 kilometers. "Red" branch connects Esaki Station Senri-Chuo.
Another popular branch in Osaka metro - "blue". It is laid from the southern areas of the city center, and 11 of its service stations daily to 320 thousand passengers.
The longest Metro line Osaka - "brown". Its length is more than 40 kilometers. It was put into operation in 1969, and its passengers can take advantage of 22 stations. From west to east Osaka related "green" branch number 5, the length of which exceeds 20 kilometers.
All Osaka subway cars are air-conditioned trains. Some formulations are equipped with heated seats. The names of the stations in the schemes and voice communications are carried out in two languages ​​- Japanese and English. Entrances to the subway Osaka easily recognizable logo accompanied by red color, which is a circle crossed by a horizontal U-shaped figure.
Hours Metro Osaka
Subway Osaka runs from 5 am until after midnight. Intervals trains no more than two minutes to make up in a particularly busy time of the day. The speed of movement in all areas of Osaka Metro 70 kilometers per hour is limited.
Metro Pictures Osaka
Metro map of Osaka