Vehicles in Japan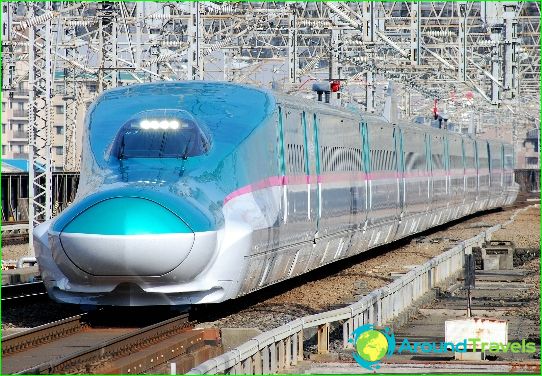 Vehicles in Japan is represented by a high-quality road, rail, air links.
Popular modes of transport in Japan
Public transport: travel by bus is not very convenient because of the low ceilings, narrow and small seats (all numbers and names are listed characters). Bus - a great option for those who want to save on the cost of the trip. For example, from Tokyo to Osaka can be reached in 5 times cheaper than the high-speed train, but the trip instead of 3 (train) will take 12 hours. It is worth noting that the fare is paid when leaving the bus. In Nagasaki, Kagasime, Kumamoto and other cities are laid tram lines, so if you want you can use this method of transportation. Using the metro (in the Tokyo subway, you can reach any area of ​​the city and its suburbs) and buying a ticket in the machine, it is important to keep it until the end of the trip, because when you exit ticket will need more time to insert into the machine so that you can get out (in the absence of his ticket will have to buy again).
Air transport: access to all major cities of the country as possible, taking advantage of the services of domestic airlines - ANA, JAS, JAL.
Railway transport: represented by high-speed trains "Shinkansen" special and limited express trains, electric trains. It is better to buy a ticket with a reserved place - it will be more expensive, but it ensures you travel in a comfortable chair - otherwise you will be able to stand the whole way.
Taxi
"Catch" taxis can be on the sidelines, waving his hand. If you decide to use a Japanese taxi (quite expensive), it should be noted an important feature: the burning red light indicates that the machine is free, green - it is busy, and yellow - the driver rides on a telephone call. Do not attempt to independently open and close the doors - taxis are equipped with automatic doors.
It is worth noting that the drivers do not speakforeign languages, so you can take with a phrase book. But in the big cities, they may not be needed, since taxis are equipped with electronic voice translators. Keep in mind that a taxi is forbidden to smoke, and not to tip.
Car rent
Tourists are not recommended to take a car,because the design of this procedure is quite complicated, the country has a left-hand drive, and it is complicated by the constant traffic jams and difficulties with parking. But if you decide to rent a car, you will need an international driving license and Japanese insurance.
Vehicles in Japan - it's perfectly oiled machine, running fast, convenient and secure.
Photo