Malta Coat of Arms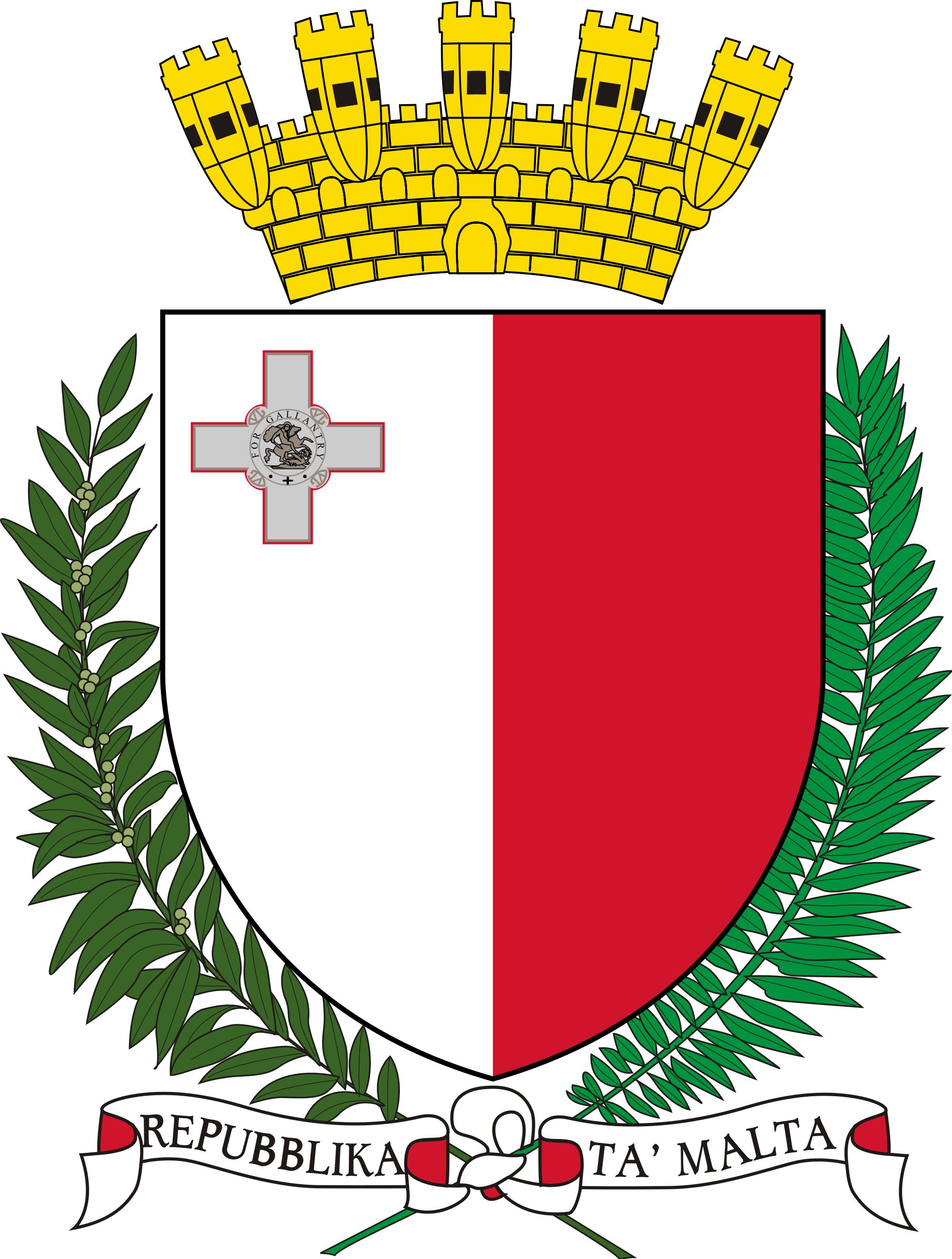 The modern coat of arms of Malta has not so muchyears, since independence from UK was obtained only in the 1964 year. And until that time, who not only tried to rule the land - the Phoenicians and the Greeks, Romans, Arabs, Normans, Spaniards, Englishmen. A small country, nestled on an island in the Mediterranean Sea, it was a tasty morsel for the near and distant neighbors.
The history of the Maltese coat of arms
Having gained independence from Albion,Maltese immediately began to create their own state. Among the most important measures was the introduction of a formal character. Thus was the first coat, the elements of which can be found in today's version.
From 1964 to 1975. Malta coat of arms depicted on the shield divided vertically on the silver and scarlet fields. And in the silver box to the left, at the top, was placed cross. Shield lined palm and olive branches, which are often used in heraldry. Supporters were dolphins and sea waves served basis, which emphasized particularly the location of the state. Crowning the composition: a knight's helmet; golden crown in the form of the tower; chervleno-silver torse. It also housed the legendary Maltese cross, a little lower - ribbon with the motto "The valor and fortitude."
Coat of arms of the Republic of Malta
In 1975, due to the fact that Malta has announceditself a republic, there was a replacement of the main character. The coat of arms of the country was represented seascape, sunrise, beach with tools, Maltese Boat, cacti.
The new coat of arms lost its formality,solemnity and pathos. He reminded, rather, about the past of the country, the peaceful labor of its inhabitants. Bottom composition crowned with the inscription on the Maltese language "Republic of Malta".
Modern coat of arms
The current coat of arms of the image appeared in 1988. Again, the central place is given to the shield, made of silver and scarlet fields. George Cross, which has scarlet fringe, took his place on the left side.
Supporters, whose role is performed on dolphinsemblem of 1964 have disappeared, but the branches of the palm trees and olive trees are still bordered by the main character of the state. He disappeared and the Maltese cross, although the tape with the country's name remains. Crowns song tower crown, remaining alone, without a helmet knights and torse. Crown is a kind of symbol of the city-state and recalls reliable fortifications.
Photo