Malta Kitchen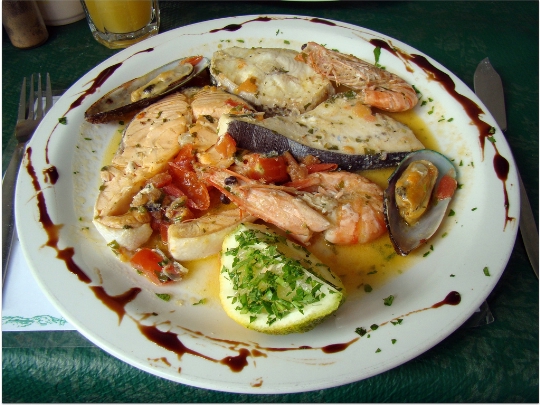 Kitchen Malta - this interweaving of local culinary specialties of the Mediterranean cuisine, England, Italy and France.
National cuisine of Malta
Fish products in Malta in the form of sea bass,trout, octopus, red mullet, usually stewed, baked or grilled boiled with vegetables. Before submit a main dish on the table, put a snack "bigilla" of pickles, vegetables and herbs. The Maltese soups usually add dried and fresh vegetables, complementing them with cheese and meat.
Of the main dishes are often prepared in Malta"Bradzholi" (a dish of meat, stuffed with eggs and greens), "ross fil-Forn" (a dish in the form of a rice casserole with tomato and meat), "Arnita mimli" (a dish in the form of a stuffed octopus), the Maltese ravioli. It is worth noting that the whole meal is complete without a nomination on the table of the traditional crisp bread "Khobzey".
Those interested should Maltese sweetsfeast on crispy rolls with different fillings ( "cannoli"), Maltese nut nougat ( "kubbayt"), sponge cake with figs ( "kaak tal-Assel"), Maltese halva with almonds ( "Helvi tat-Tork").
Popular dishes of Maltese cuisine:
"Fenkata" (roast based marinated in red wine, tomato sauce and garlic rabbit meat);
"Bebbush" (stew, which is based on snails and garlic sauce);
"Lampuka" (a dish in the form of a fish pie with tomato sauce);
"Stuffat Tal Fenech" (stew whose main ingredient is a rabbit, garlic sauce and herbs);
"Kuksu" (soup with pasta and beans).
Where to try Maltese cuisine?
Traditional guests of Malta will be able to try in small family restaurants, taverns and luxurious restaurants that are open at the old palaces.
Valletta offers satisfy your hunger in the "Rubino" (inthe restaurant's menu offers dishes that are a reflection of the traditional Maltese recipes - try the roast beef tagliata, stuffed Maltese vegetables, pies lampukoy) and Melihha - in "Bouquet Garni" (the family restaurant treats guests Maltese cuisine with a modern twist - deserve special attention dishes fish and seafood).
Cooking courses in Malta
Due to the fact that the island is functioningNational Association of Maltese cuisine "Fuklar", all interested persons will be able to visit the culinary courses - where they will learn to cook local dishes and get theoretical knowledge about the gastronomic Malta.
Visiting Malta is scheduled to be heldChocolate Festival (October, Ħamrun), in which you can admire chocolate sculptures and participate in the competition for eating chocolate delicacies; Beer Festival (July-August, Farsons); Bread Festival (September, Qormi); Wine Festival (September, Qormi).
Photo