Traditional cuisine of Malta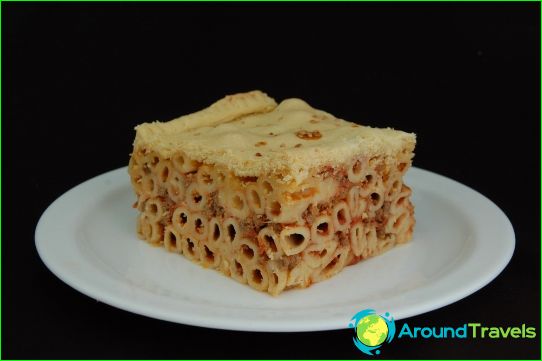 Maltese food is quite simple and is largely dependent on the time of year. For example, in the summer you will be able to try imqarrun (baked pasta), and in winter - minestra (thick vegetable soup).
Food in Malta
Diet Maltese upseafood, fish, vegetables, legumes. From traditional Maltese dishes are worth a try rabbit Stew (stewed rabbit), bragioli (meat rolls from beef), kapunata (vegetable stew), gbejna (soup based on goat's or sheep's cheese), bigilla (pâté based on broad beans and garlic) , pastizzi (puff pastry stuffed with ricotta cheese), aljotta (fish soup), quarnit mimli (octopus with pasta or spaghetti).
A sweet tooth can enjoy a chilleddessert based on candied fruit, cream, ice cream and whipped cream; a mixture of candied almonds (helwa tat-tork); fried tubes of dough stuffed with ricotta (kannoli).
Sunday morning is worth visiting the fish market,where you can buy fish such as sea bass, red mullet, dentex, grouper, stone fish, gruster (for example, in the autumn months on the market for sale swordfish and tuna, and a little later - the fish dorado).
Food in Malta is not cheap, but the price dispersion in various establishments catering is such that they can meet people with all tastes and budgets.
Where to eat in Malta? At your service:
Fast food restaurants (Subway, Burger King, McDonalds);
Pizzeria (here you can order pizza, pasta, grilled meats);
restaurants where you can enjoy British cuisine;
cafes and restaurants where you can enjoy a traditional Maltese cuisine.
Drinks in Malta
The most popular drinks are Maltese Kinnie (soda bitter orange flavor), beer, wine, "kaktusovka" (Maltese liqueur).
Beer lovers should try the beer varieties like Hopleaf, Blue Label Ale, Shandy, Lacto. And wine lovers should enjoy the taste of Palazzo Verdala, Merlot, La Valette, Cabernet Sauvignon.
Gastronomic tour in Malta
you can go, if desired in a special tourMalta, during which you will visit the famous wineries and visit the wine cellars. Here you will learn about the production of local wine features, will taste different wines and taste traditional Maltese snack.
Arriving in Malta, you will get acquainted with the traditions of the national cuisine, which includes elements of the culinary skill of the islanders, and some other countries in Africa and Mediterranean Europe.
Photos of Malta of national dishes