Prices in Malta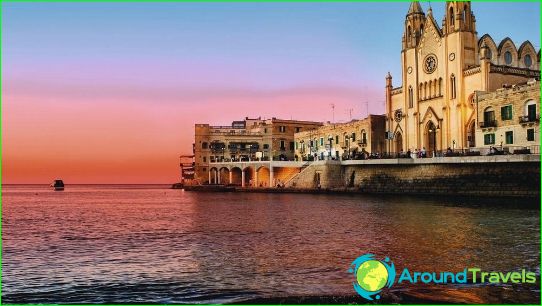 Malta Prices slightly lower than in many European countries, and are at the same level as in Portugal. To pay on the island can only euros.
Shopping and souvenirs
Shoppers can satisfy their desire to Republic Street in Valletta, shopping centers in St Julian's and Sliema.
What to bring to the holiday in Malta?
of Maltese glass products (ashtrays, vases,glasses, figurines), door handles in the form of dolphins, lace (tablecloth, umbrella, fan), a miniature copy of the popular Maltese buildings, products with symbols of chivalry;
sweater sheep handmade wool;
Maltese wine (Marsovin, Camilleri), pickles, honey, cheese.
In Malta, you can buy products fromMaltese glass of 12 euros, Maltese lace - from 8 euros, souvenir fishing boats - from 10 euros, gold and silver ornaments from knightly symbols (brooches, rings, pendants) - from 25 euros, the Knights of Malta (figure) - from 35 euros, goat cheese - 6 euro / kg 1, Maltese honey - from 5-6 euros / 1 jar of olive oil - from € 7 / 0,5 l.
Excursions and Entertainment
If you decide to visit the ancient capital of Malta, youIt is to go on a tour of Mdina: you can walk around the ancient city, to visit the Cathedral, explore the fortifications, visit the Botanical Garden of St. Anthony. The tour, designed for half a day, costs about 24 euros.
And on the "Blue Grotto" Your visitMarsaxlokk fishing village and visit the fish market, and then go on a sea fishing boat to the beautiful caves. The approximate cost of the tour - 26 euros.
Parents with children should visit the marine park"Mediterranium". Here you will have to wait for the underwater world and its inhabitants, and interesting entertainment program. The approximate cost of entertainment - 26 euros.
Transport
For 1 bus ride you will pay 0.5 euros and the fare for a taxi - 1.4 Euros per kilometer.
It is worth noting that the fare onpublic transport on the island is a two-step - for residents (for their travel costs 2 times less) and guests of Malta provides different rates. You, as a tourist, it is advisable to purchase a ticket, valid all day (it costs 2.5 euros) or for 7 days (its price - 12 euros).
you will be able to travel on the ferry, if desired: get from Malta to Gozo you can by buying a standard ticket cost 6 euro, Malta to Comino - 10 euros (return ticket), but from Sliema to Valletta - 1.5 EUR (one way ticket).
If you prefer to visit the country to move to a rented car, this service will cost you a minimum of 30 euros per day.
When planning a holiday in Malta, it is advisable to bring your money at the rate of 60-100 euros per day for 1 person.
Photo