Amsterdam Airport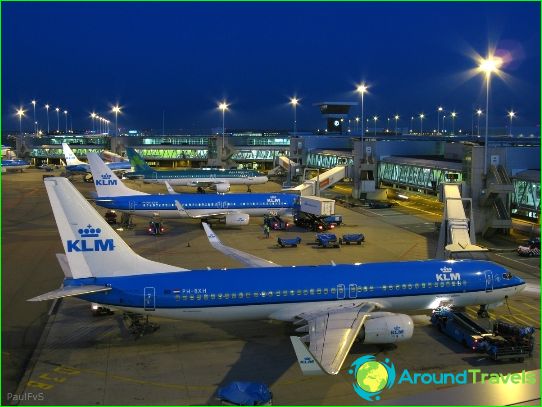 Airport in Amsterdam, called Schipholis the main air port and the Netherlands next in size and passenger traffic after the British Heathrow Airport. It is 17 kilometers from the center, in the district of Haarlemmermeer. Interestingly, the airport in Amsterdam for fifteen years, won the title of "Best Airport in Europe".
Connections to the City
The city and airport terminal are connectedseveral bus lines, range of motion which is 8-10 minutes, as well as high-speed express trains. For those who arrived at the airport by car, at the airport has several car parks, providing services different prices, depending on the time of the alleged parking. If necessary, a parking space can be booked online.
Shops and Services
On the territory of the Schiphol terminals areseveral comfortable seating areas that can satisfy different needs of passengers: there is a business room with a library, computer desk, conference room and a light snack, a mother and child room with sleeping areas and games, as well as the main seating area with a TV and comfortable seating. Amsterdam Airport includes a shopping center, called «Schiphol Plaza», with boutiques and outlets, whose services are actively used not only by passengers of the aircraft, but also locals. To the waiting time passed quickly, in the territory of the terminal is located a number of exhibits from several museums, where you can get acquainted with the works of art and buy souvenirs. The airport terminals in the waiting area, after passing customs control, cafes and restaurants offer tasty lunch or a light snack before the flight and duty-free shops are striking in their diversity. The passengers in the terminal building storage facilities operate around the clock, as well as luggage packing service where for a small fee, bag or suitcase will be immediately packed in a special film to help prevent things from contamination or damage to the road.
Photos of Amsterdam Airport