Areas of Amsterdam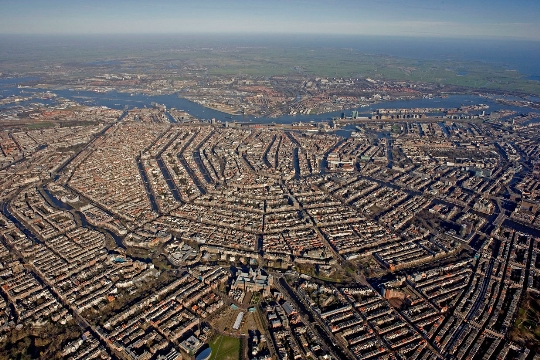 Areas of Amsterdam, you will see on the map - before they were 14, and today they have joined in the 7 areas (objective association - better interaction between areas).
The names and a description of areas of Amsterdam
Noord: District pleases travelers and residents regularly passing cultural activities, participation in which is to capture the photo, as well as a seating area Het Twiske.
Centre: consists of blocks Jordan (famous market Nordermarkt and a maze of streets, ideal for hiking, and even then you can get acquainted with the Dutch folklore during the eponymous music festival), Yodenbyuyurt (famous for the house-museum of Rembrandt, "Gassan Diamonds" home diamond companies and the Jewish History museum), de Plantage (attention guests deserve Mauderport gate, Botanical garden with exotic plants planted in it, Aquarium, Zoo Artis Zoo), Nivezeyds (worth going over the Dam Square to the Royal palace located on it) Grachtengordel (the main attractions - the house Anne Frank and the church Westerkerk) Audzeyds (its highlight - the Red Light District).
Zuid: interesting market Albert Cuyp, Sarphati Park and the Heineken brewery, famous Concertgebouw concert hall, an area of ​​museums with the Museum of the diamond, the Van Gogh Museum, the Rijksmuseum and the Museum of Modern Art Stetelijk, and Vondelpark.
Zuidoost: interest is the green area and the Amsterdam Arena stadium.
West: De Barshes divided into (a quiet and relatively inexpensive), Oud-West (bordered by Vondelpark) and other quarters.
Oost: Dappermarkt interesting market and its artificial islands.
Nieuw-West: subdivided into districts Osdorp (ecological residential area), Slotervart (famous for its gardens and paths for walking) and Gezenveld-Slotermeer (lake Sloterplas deserves attention - then you can go diving, fishing, sailing and canoeing). Attractions Nieuw-West - St Peter's Church, Gallery of Art Kitchen, Oeverlanden Reserve (here inhabit 40 species of birds), Slaughter Park, where in August Loveland Festival is celebrated.
Where to stay tourists
Upon arrival, be prepared to Amsterdamthe fact that the city is quite expensive housing (the same applies to transport costs). The most attractive place for tourists considered the central area - namely, the quarter Grachtengordel (ideal for exploring the city), but it is important to understand that it is also the most expensive.
Those who wish to settle in the center standsrecommend to choose a hotel in the neighborhood Plantage - it's pretty quiet place suitable for living with children. A good place to stay is the Jordan - travelers will be pleased to wander through the streets of the quarter and watch the daily life of the city.
Youth companies will approach the area De Pape - heflooded with noisy bars and cheap eateries. The cheapest accommodation can be removed in the Zuidoost district (Metro goes to the center), but it is not considered to be very calm because of social tensions.
Photos Amsterdam area