Amsterdam Beaches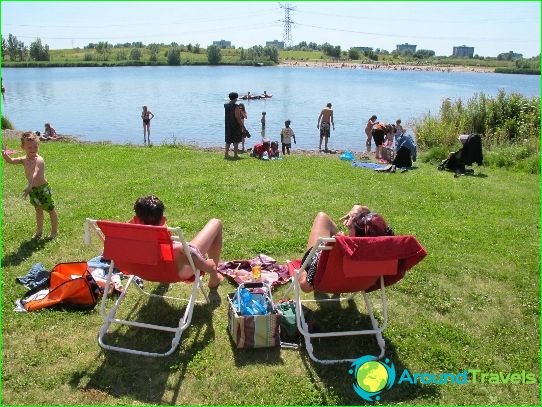 The sea is located on the capital of the Netherlands only30-minute bus ride away, so a beach holiday here - it is very familiar. Tourists come here not only to relax on the coast, but also to get acquainted with the cultural characteristics of the city. Attractions in Amsterdam is really a huge amount - it can be said that the whole city is a huge attraction. The old beautiful buildings, unique museums and European streets, Amsterdam beaches - all this leaves a great impression. In the suburbs of Amsterdam, you can have a good rest and gain strength for the year ahead.
Popular beaches
The best sandy beaches of Amsterdam - it Blijburgaan Zee and Strand West. Both of these beaches are quite large - they extend to 5-6 km, but even so, they are often packed to capacity. Beach Strand West appeared recently, but has already become quite popular. Locals come here for the weekend, and visitors to the city spend the whole week here. It offers a beautiful view of the Ai River. In addition to the beauty of a beach reserved a number of pleasant surprises for travelers:
rest in a hammock or on a round soft cushion, which are scattered all over the beach area;
small bars and restaurants where you can eat and a little cool after a hot day;
playgrounds for beach volleyball and tennis - here you do not get bored;
playgrounds for younger campers and more.
Cabanas are free, as well as going to the toilet, but to pay the entrance to the beach you have to pay a small sum of money.
Paphos beach Blijburg aan Zee
On the beach Blijburg aan Zee atmosphere can be calledbohemian, so most visitors, vacationers prefer it. This beach is located on the east side of the complex of islands called Ayburg. Its dimensions are not that big - only 250 meters in length and 40 - wide, but too much of a rest here almost never happens. It is noteworthy that in the evening there are often arranged campfires and sing national songs and small festivals are held with the participation of local and visiting dance and music groups. Visiting DJs create almost festive atmosphere, forcing holidaymakers to start dancing - disco on Blijburg aan Zee beaches are a matter of habit. This beach is well-suited if you have a hot young blood, and you do not want to just relax on the beach, but also to gain an unforgettable experience in a new country. It is very easy to reach - from the central station in the direction of the beach is a number 26 tram, which will take you on a clear destination.
Amsterdam Photos beaches