The best restaurants in Amsterdam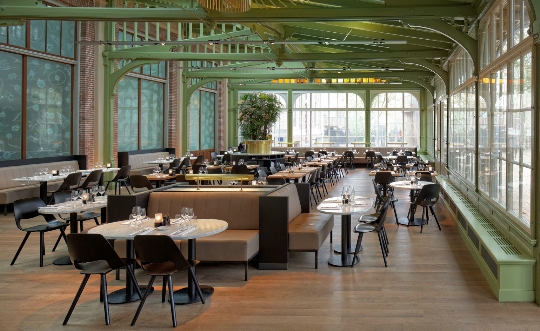 Amsterdam - the city is quite provocative. The laws that prevail here, not all understand and approve. But the Dutch are not confused, they live in their pleasure, and invite everyone to join them. Tulips, canals, fairs, nightclubs, coffee shops and the best restaurants in Amsterdam are always welcome guests.
Gourmet food
The best restaurants in the city is considered «LeRestaurant ». It has one Michelin star. Refined French Cuisine, and each guest is a service that he at least prince or duke. And excellent wines, just out of the competition.
Celebrities, arriving in Amsterdam, likelook in «La Rive». This luxurious restaurant is sometimes hosts exhibitions of contemporary art. The kitchen is in the author's institution, also has an excellent selection of wines. This restaurant is not for nothing that has a Michelin star.
Another interesting restaurant - «Ciel Bleu». 2 Michelin stars. It is located on the 23rd floor, so the view of the city is simply amazing. French Cuisine. There is also a feature of its own - in the hall hanging screens on which the real-time broadcast everything that happens in the kitchen.
Haute author's cuisine boasts a restaurant«Vermeer». The atmosphere here is more aristocratic, and traditional cuisine. It is surprising its guests and the restaurant «De Kas». Simply it is in the greenhouse, where vegetables are grown. The interior is very interesting, and the cuisine at a high level.
Amsterdam Bars
Authentic Dutch bar «In t Aepjen» -favorite local restaurant. It is not a tourist, and therefore is interesting. Yet it is very old - XVI century. «Bo Cinq» - a bar that is visited by the rich and powerful of this world. 800 whiskeys can be found only in the «Whiskycafe L & B». It is not necessary to order something else.
Coffeeshops: «Coffeeshop Abraxas»; «Coffeeshop Baba»; «Coffeeshop Rusland».
Fast food
Refreshments not pretentious restaurant, but, for example,in «Burger Bar» or «Vlaams Friteshuis Vleminckx» - the same kind of local exotics. Food at all times - burgers and potatoes with different sauces - just what you need during a walk around the city. also recommend «Rapper» From these establishments.
Photo