The capital of the Netherlands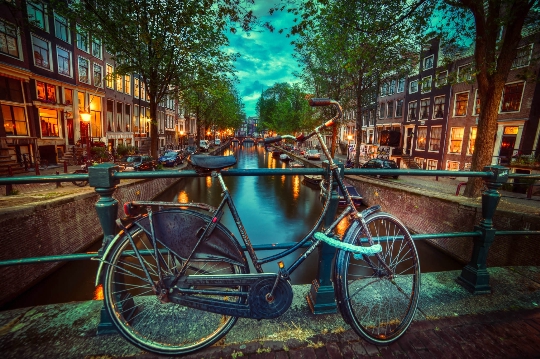 The official capital of the Netherlands,which is often called Holland, since 1814 is the city of Amsterdam. It is located in the province of North Holland in the confluence of the Amstel river in the sea. The city is home to more than 800 thousand people, and together with the suburbs -. More than two million.
From the Golden Age
Once the Amsterdam was a smallfishing village and up to the XII century about it, few have heard, except the residents of neighboring villages. Then came the Golden Age and Amsterdam became a port and commercial center, the fame of which soon resounded throughout the world.
Modern Amsterdam - a place of tourist attractionfrom all corners of the planet and the financial and cultural capital of the kingdom. Despite the fact that the residence of the monarch and the government has long moved to The Hague, where the king still gives the oath of allegiance to the subject.
Residents of Amsterdam are representatives of more than 170 ethnic groups and is one of the most ethnically colorful cities not only in the Old World, but also all over the world.
The big names
In the capital of the Netherlands operates the world's oldest stock exchange and open headquarters of the planet's largest companies. The head office of Greenpeace also found a place in Amsterdam.
Interesting Facts
Every year, Amsterdam is visited by 4.5 million tourists.
The city has almost half a millionbicycles, which are one of the most popular means of transportation. The reason - the ideal conditions for cyclists, the compact size of the capital and not too comfortable for the street car.
Dutch capital The university was founded in the early XVII century, and under the roof collected 13 faculties and more than a dozen research institutes.
Exposure thirty most famous museums in Amsterdam devoted to paintings and cats, bags and beer, diamonds and photography, archeology and horrors.
How, when, on what?
For a trip to the capital of the kingdom of needSchengen visa, and to get to Amsterdam from Russia is easiest by air. Schiphol Airport is half an hour away from the city and get out of his train terminals can be attributable to the central station. The capital of the Netherlands is connected to ground connections to many cities in Europe, and therefore easy to get here by train or car.
The best time to visit Amsterdam with pointof weather - mid and late spring. In April and May, it falls the least rain and daytime temperatures reaching 20 degrees, which is very comfortable for sightseeing in Amsterdam and exploring the city.
Photo