Christmas in Amsterdam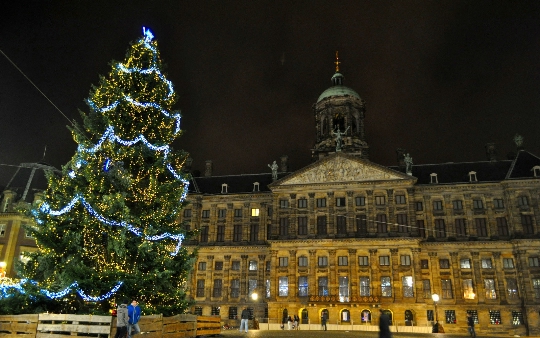 Noting Christmas in Amsterdam inTravelers will be able to admire the 17th-century building, illuminated by beautiful lights (it looks pretty cryptically), drive on the ice rink, the Christmas feast on sweets and mulled wine ...
Features of the celebration of Christmas in Amsterdam
Christmas celebrations begin on 5 Decemberwhen in Amsterdam remains Sinterklaas (Dutch Santa Claus) with presents and helpers (Black Peter) - his arrival in the city on the ship to the pier leading broadcast television companies (here children receive gifts on the night of 5 December 6).
It is worth noting that the Dutch are making Christmashouse fir, which they decorate toys, and after a few days they make it to the street. As for the holiday, then visiting the solemn service in the church, the Dutch sent the whole family at the table: the Christmas dinner is not complete without the dishes of venison, rabbit and game variety. But tourists on Christmas Eve can be advised to spend time at the restaurant "Bickersaande Werf" - he will appreciate their friendly atmosphere, trendy music and fusion-composition of local chefs.
Entertainment and celebrations in Amsterdam
Admire Amsterdam, shining bright lights(In the winter it gets dark early), it is possible during the light festival, which runs from late November until mid-January. Not only is the backlit illuminated houses, trees, shop windows imostiki, so also in the city center you can admire the installations created by contemporary artists (they also flicker colored lights).
Lovers of outdoor activities recommendedice skating rinks in the city. For example, play hockey or curling can be, going on Museumplein. And here instructors carried out figure skating lessons for all comers. Another good place for ice skating - rink at the Leidseplein. You want to take part in a disco on ice? Head to the rink Jaap Eden.
From mid-December to early January, you will have the chance to see the performance of circus artists at the Royal Theatre Carre - they stand here with a new program every year - "World Christmas Circus".
Christmas fairs and markets in Amsterdam
On Christmas markets in Amsterdam,unfolding on the Leidseplein and Rembrandtplein, as well as in Frankendael park, visitors are encouraged to get things handmade and try typical Dutch food and drinks.
Christmas sweets and souvenirs you can get at the Winter Market Amsterdam- sure to try the traditional donuts oliebol (they are only sold in the holiday season until January 12).
Pay attention to the Christmas Palace - here youwill be able to buy gifts for Christmas, especially Christmas decorations, and at the entrance you will meet Santa Claus and remind you how many days left before the holiday.
Photo