Entertainment in Amsterdam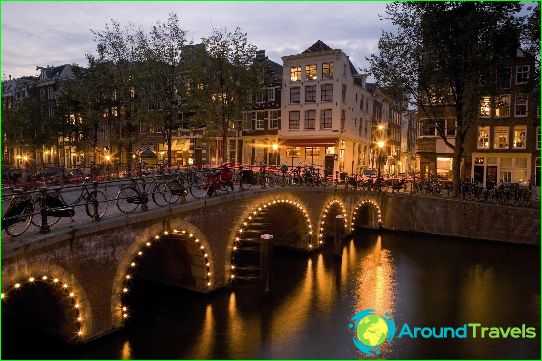 Entertainment in Amsterdam - this authortrips (for example, "Crazy Amsterdam"), dedicated to the punks, members of sexual minorities and others, cycling around the city, visiting night bars and coffee shops.
Amusement parks in Amsterdam
"Efteling": This amusement park visitors will be able to enjoy the spectacular and entertainment attractions (roller coaster, the conquest of the mountain river on inflatable rafts), theatrical scenes, which involve genies, dragons and dwarves (their role play dolls, robots), attend concerts and seasonal myuzikl- show (accompanied by a light show).
"Walibi World": Visitors of the park will be able to ride 40 rides and visit each of the nine thematic areas ( "Sherwood Forest", "Mexico", "Italia", "Canadian Youkon" and others). If desired, you can take part in special activities such as the "Night of horror". As for the youngest guests, for them there is created Walibi Land (there are special cots). In addition, here they will be able to meet with kangaroo Walibi.
What kind of entertainment in Amsterdam?
For you, is of interest to the nightlife of the city? Look to the night clubs "Exit" (club pleases guests with music of different directions, parties, accompanied by interesting performances and costumed show), "Sugarfactory" (specialization Club - R'n'B, techno, house, disco 80's and 90's ), "Melkweg" (offers of the club - theme parties, interesting entertainment programs, theater performances).
Even if you do not consider yourself to the fansbeer, still plan to hike in the Heineken Beer Museum - here you will tell the story of the world-famous brewery, and you will see how the beer is bottled, admire interactive exposition, foamy drink will taste.
It has long dreamed of seeing firsthand howbounding the diamonds? Visit a diamond factory "Gassan Diamonds" - for you then take a tour of factories and workshops will be offered to acquire the pleasant decoration is located here in the company store (if you want to you can make jewelry to order).
Entertainment for children in Amsterdam
Science Center "Nemo": kids, for sure, will be delighted by the possibility to touch and unleash all museum exhibits. The youngest visitors to the museum will be able to look at their reflections in the distorting mirror and conduct experiments with soap bubbles, and young scientists - visit the laboratory where they will learn a lot about the natural phenomena (classes are held in the form of a game).
Zoo "Natura Artis Magistra": young visitors will be offered a walk on the "Walk of parrots", "Camel lawn", "Land of the lemurs", look into the Pavilion with reptiles, the Gallery with feline predators in the Planetarium.
On vacation in Amsterdam do not forget to ride on a pleasure boat through multiple channels, stroll through the Red Light District, visit the flower market Bloemenmarkt.
Photo