Independent travel to Amsterdam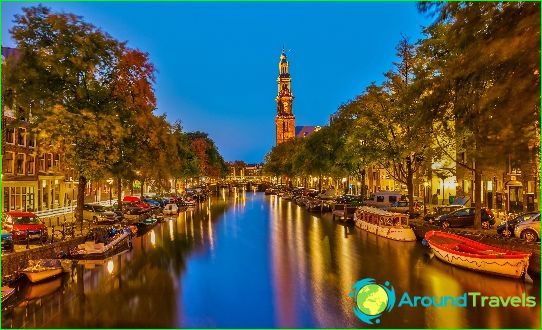 The capital of the Netherlands - a city of remarkable in every way. From it, as a rule, travelers begin a tour of the country of tulips, windmills and wooden shoes.
When to go to Amsterdam?
In the Netherlands the climate in general and Amsterdamparticularly affected by the proximity of the sea, and therefore northwest squally wind, even in the middle of summer to the need to treat carefully the choice of clothes for the trip. The best option - tight raincoat in backpack, because the July maximum of 25 degrees can be lubricated by frequent rain and dampness. Going in winter tours in Amsterdam Christmas do not forget about the possible freezing temperatures.
How to get to Amsterdam?
The annual 4.5 million tourists arriveAmsterdam mainly by air. Schiphol Airport receives flights from all over the world. Getting off on Dutch soil on the ladder and going through all the controls, you can take a taxi (expensive option), or go to the city by train, which starts from the platform beneath the main hall airport. It will be cheaper at least ten times. The train arrives at the main train station in Amsterdam's city center.
Getting around the city is most advantageouswhich are the same for all modes of transport ticket Amsterdam Pass, which entitles you to visit and many museum exhibitions. For sale in tourist offices VVV service. The second popular way of moving the capital of the Netherlands - a rented bicycle.
housing
Guests Amsterdam prepared a hugethe number of accommodation: from strict expensive luxury hotel chains to home and Hostels with multiple beds in one room and shared facilities. Accordingly, the issue price for the night can range from $ 500 up to $ 15-20. It is important to book hotels in advance, because Amsterdam - one of the most popular European cities, especially during the holidays.
Argue about taste
In Amsterdam you can meet democraticrestaurants with very different world cuisine, so there will not have nostalgia for the usual lunch or breakfast. The time when having a meal in the Dutch catering can be problems - from 16 to 18 hours when the meal is already completed, and staff serve tables for dinner. The expensive and their places of worship and should be booked in advance.
Cognitive and exciting
In Amsterdam, many worthy of a visitcanals and bridges, Dam Square and the famous "red lights", the Royal Palace Museum and Monument of Liberty. In summer, the city is best to look at a boat ride, which gives the right to take all the same Amsterdam Pass.
Photos trip to Amsterdam