Prices in Amsterdam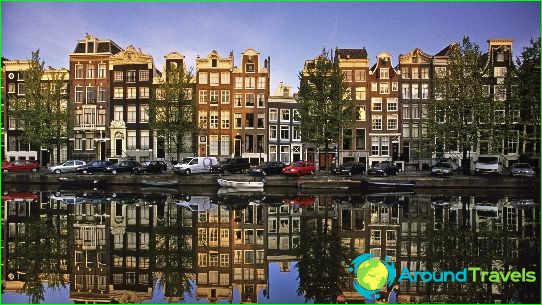 To feel the spirit of freedom, many tourists go toAmsterdam. People of different ages tend to go there to have fun and good to see the historical sights. Tell us what prices were recorded in Amsterdam in the field of tourist services.
Tours and accommodation
Almost any travel agency has trips toAmsterdam with departure from Moscow. Activities during the week will cost from 80 thousand to 200 thousand rubles, if the residence is in a 4 * hotel. Stay for 7 days in a 3 * hotel is worth 60,000 - 140,000 rubles. Going to Amsterdam, you can own. Flights on this route is always available. One-way ticket costs 9,500 - 30,000 rubles (economy class cabin).
With regard to housing, the capital of its Dutchcan be removed without problems, if you have enough financial resources. Room for 1 person costs 70 - 350 euros per day. The cost depends on the availability of additional services and the hotel's location. Tourists can rent an apartment, room or house. The rent for the room depends on the location of the apartment house, the comforts, the number of floors and square footage. Good room costs about 75 euros per day. On the outskirts of the city the room will cost 50 euros. Apartment or house can be rented for 100-120 euros per day.
Dining in Amsterdam
There are many budget restaurants and cafes. A portion of pizza can be ordered for 3-4 euros and a cup of coffee for 2-3 Euro. Fast food chain KFC offers. Set lunch there costs about 7 euros. In the cafe you can have a meal for 12-15 euros. In Amsterdam there are McDonald's, where you can eat for 6-7 euros. To drink a beer at the bar, you have to spend 2-3 euros.
Transport
Amsterdam is a densely populated city. To move on its streets by car is not very convenient. Therefore, public transport is very popular. People prefer to travel on trams, buses, trolley buses and the metro. There are single tickets, but their prices vary depending on the length of the route. The city is divided into zones, and the ticket for one zone is 1.6 euros. For each next area we have to pay 0.8 euros. To see the sights, take in rent the bike for 12-14 euros per day.
Tours in Amsterdam
excursions format is different. Tour operators organize historical, entertainment, sightseeing and other excursions. Very often walking tours are combined with car. Sightseeing tour lasting 4 hours worth of 120 euros. Tours of the airport with a cruise on a small ship will cost 150 euros. During a tour of the capital of the Netherlands in Luxembourg, tourists pay 850 euros.
Photo