Shops and markets in Amsterdam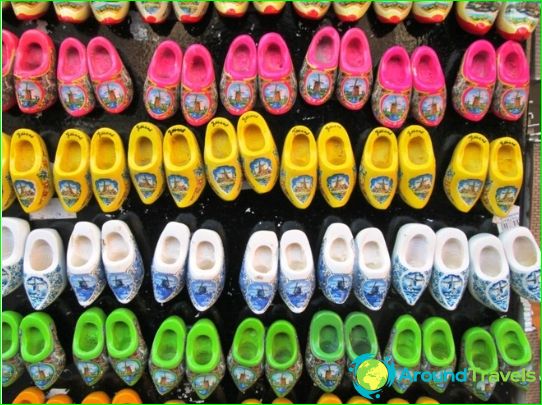 Amsterdam is not is large andShopping is not tired. In the city you can buy highly original things. There are many shops Dutch designers with his vision of fashion, art and antique shops and, of course, jewelry stores. The most opportune time for shopping - the second half of December. After Christmas discounts peak, but more to the point is already sold out. There are sales and during the other seasons, but they are not so ambitious.
Primarily, Amsterdam known qualityfaceting gems. The first stones began to process here four centuries ago. Jewelry shops offering brilliantly polished diamonds, a lot on the shopping streets of the city. If you want to know more about diamonds and the course of their treatment, the Jewelry Factory offer excursion. On the museum area is Coster Diamonds Factory, and on the central Dam Square, a large jewelry store Amsterdam Diamonds Center.
Shopping areas, streets and markets
In Amsterdam, a lot of shopping streets: Leidsestraat, Haarlemmerdijk, Pieter Cornelisz, Hooftstraat and Wolvenstraat, Huidenstraat. Nieuwendijk and Kalverstraat suitable for lovers of well-known brands H & M, Mexx, Zara, Esprit, Bershka. You can find here, and very original shops: Desigual with a cheerful bright clothing or Spanish Sabon Israeli Dead Sea cosmetics. It will be interesting and multi-storey shop Maison de Bonetterie. Liquor in the original dishes are sold in the shop de Vreng en zonen. The bottle can be in the form of a machine or vehicle, fantastic character. Near - at the corner of Nieuwendijk and Haringpakkerssteeg - you can buy the wine Dutch cheese in a specialty store.
District 9 streets (9 Straatjes) attractive toappreciate eccentricity in fashion and tastes. There are many boutiques of young Dutch and European designers. Music lovers will be delighted by the shop Sugar and Spice, where in addition to contemporary music, you can choose anything on vinyl. The Gamekeeper shop sells modern and not very board games. In this area are also remarkable second hand, for example, Episode with dresses for special occasions.
Unusual purchases you can make, and in the areaVan Baerlestraat. There is a wonderful store two graduates of the Dutch Academy of Arts The People Of The Labyrints with their flying, hand-painted fabrics and incredible style. Prices in the store are high, but to join the high fashion, not necessarily to buy, you can just try. Much more reasonable prices in Gaastra shop. This is a Dutch clothing brand in casual style. Interestingly, before the firm sewed sail the sea, and now retrained on very original clothes.
Tourists interested in the market on the Spui square. On Friday, he is filled with old books, postcards, reproductions. On Sundays, there are the works by Dutch artists.
Amateur gardeners direct route toAmsterdam flower market. Dormant bulbs and young plants, cacti and orchids, a huge number of colors. How would react to the customs seed - the big question. But to wander and enjoy the variety of shapes and colors can be here forever.
Photos of Amsterdam stores