Streets of Amsterdam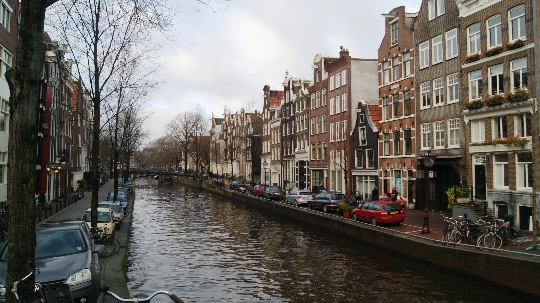 Amsterdam - one of the largest port citiesEurope and the capital of the Netherlands. Its location is the province of North Holland. Streets of Amsterdam are known for their contrasts. Against the background of the ancient buildings in the city is seething life. Here legally sell soft drugs.
The city is situated on the marshy lands. Many buildings were built on stilts. Previously, it had wooden piles, and today - concrete. Amsterdam is famous for channels, of which there are more than 90. Its historic center looks very neat by houses that are close to each other.
Dam Square
It is the central place of the capital of the Netherlands. The most popular attractions in Amsterdam are located on this square. It held national holidays and events. Dam Square is located in the historic center. It has a rectangular shape and incorporates a variety of main streets:. Rockin ', Damrak, etc. In the West Dam Square is the Royal Palace and the Wax Museum.
The area is full of interest, so itIt considered a separate tourist area. The Royal Palace is a masterpiece of architecture, as it was built on stilts. This is a classic Dutch style.
Main street
The main streets of Amsterdam are consideredKalverstraat and Nieuwendijk. From the square of the Central Station departs street Nieuwendijk. It extends to a wide area Dam, Damrak parallel lines. In the area of ​​the square, this street turns into another artery and goes to Muntplein Square. On the streets are considered the best shops in town. On Kalverstraat is the church of St. Peter and Paul, and Amsterdam Museum. A popular shopping street is the Leidseplein, which passes through three beautiful canal and reaches the flower market.
Rockin '
The main streets of the city refers Rockin '. It runs from Dam Square to Mynttorget. In place of this highway I was once a section of the river bed. Gradually embankment was formed along the river bed and some sleep. Currently, this street go sightseeing on pleasure boats.
Museum quarter
This district of Amsterdam, embodies chica life. It was formed in the 19th century and was intended for the wealthy. Today there preserved the amazing architecture. The Museum Quarter is the same name square, street P.C. Hooftstraat c chic boutiques, Vondelpark, and other objects. The Vondel park operates under the open-air theater and a wonderful kinomuzey.
Photos streets of Amsterdam