Activities in Amsterdam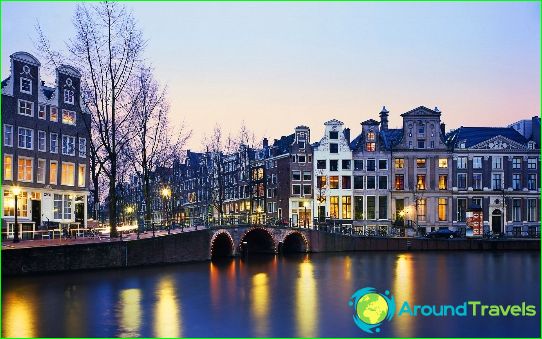 Holidays in Amsterdam - a survey of buildings of the 17th century, walking the canals, visit the museums with works by Rembrandt and Van Gogh, as well as amusement parks.
The main types of recreation in Amsterdam
Sightseeing: within the framework of the programs of excursion, you will see the Royal Palace, Anne Frank House, the Old Church (OudeKerk), visit "CosterDiamonds" on the diamond factory, the State Museum, Van Gogh Museum, take a look at the exhibition in the museums vintage camera, Erotica, handbags, Tulip, walk on the red light district.
Active: Tourists can go on bike rides (the city has special areas for cycling), spend time in the night bars, clubs, coffee shops and discos (looking for nightlife near Leidseplein, Rembrandtplein in the area, the Red Light District).
Event: Amsterdam is worth visiting during the Theatre Festival (June), Summer Festival "Zomerfestijn" (July), a football tournament and canals Festival (August), Jordan Festival (September), equestrian competitions "Amsterdam in the jump" (October-November ).
Beach: travelers should look at the beach Blijburgaan Zee - here you can relax in a hammock, sipping a cocktail, play a game of beach volleyball, do yoga, and dance at the disco night (after dark on the beach bonfires and prompted DJs or musicians). Good beaches are in the town of Zandvoort (they were awarded Blue Flag): if you want here you can find a nudist beach, surfing, sailing, fishing, look at fish restaurant.
Prices for tours in Amsterdam
To visit Amsterdam appropriate to allocateAll summer and September. Increasing the cost of vouchers in Amsterdam (on average 40-50%) observed in April and May (tulip season), in the summer, at Christmas and New Year holidays. As such there is no low season in Amsterdam, but a slight decrease in prices for tours in the capital of the Netherlands observed at the beginning of March, November, the winter months (exception - holidays).
On a note!
Because of the unpredictable weather on the pedestrian walksIt is to carry an umbrella, and cycling - a raincoat. If you plan to actively move around the city and visit the sights, it makes sense to get a special card, which gives the right to discounted entrance to museums and travel by public transport (it can be purchased at VVV tourist information offices).
Going shopping? Better shopping devote the first half of the day (in the afternoon trade on the streets can be a lot of people).
With the rest of Amsterdam can bring clothes and footwear brands and Dutch manufacturers, jewelery, including diamonds, bulbs Dutch tulips, Dutch cheese.
Photos vacation in Amsterdam