Amsterdam Viewpoints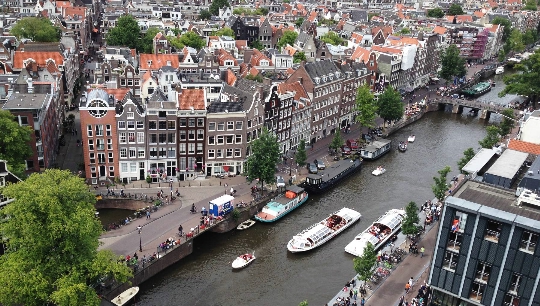 Viewpoints Amsterdam allow visitors to see the height of the Dam Square, the Red Light District, the Anne Frank House, bridges and canals, building of the railway station, church and other facilities.
The observation platform at Schiphol Airport
Having at its disposal sufficient time todeparture home, you can make a climb to a platform for review, offers views of the airfield (be able to watch the planes take off and land).
How to get there? The airport is 15 km from the city center (available means of transportation to the airport - train, bus, taxi).
Nemo Science Center
Those who wish to admire the wonderful panoramaAmsterdam should rise to a large terrace on the roof, breaking the 120 steps (22 meters above sea level). No less interesting can spend time in the museum - the children will be happy to touch, twist in your hands and press the buttons of different exhibits, created for the purpose of exciting interactive world cognition (special interest exhibitions devoted to electricity, metals and water cycle, as well as a scientific laboratory where will be able to participate in scientific experiments).
Useful information: the center is open for visitors from 10:00 to 17:30; price - 15 euros / adult; 7.5 euro / students. Address: Oosterdok, 2.
Sky Lounge
This lounge with a panoramic view is better to visit in the evening to enjoy the sights of Amsterdam, order food and drinks, as well as hits from the DJ.
Address: Ndsm - Plein 28 (the last floor of the hotel "Double Tree by Hilton").
The Old Church (Oude Kerk)
From late June to early September, guests will be able toclimb to the roof of the church, which is to review the site (the staircase leading upstairs, you will find on the right side of the entrance to the church) - from here you can admire the bridges, canals, houses. In addition, it is worth listening to organ in the church.
Address: Oudekerksplein 23.
Public library
It offers not only the 1200 reading placesseveral museums, lecture and exhibition halls, a cinema hall (a large collection of CDs and cassettes, which can not only view immediately, but also to take home), but also a restaurant "V & D La Place", which has a terrace (7th floor), where you can eat and where well looked Amsterdam Beauty (view of the southern part of the city).
Address: Oosterdokskade 143.
Church Westerkerk
To survey the site where will be able to make the best panoramic pictures of the city, the travelers will 180 steps (lifting cost 3 euros).
How to get there? You can take tram number 14, 17, 13, 20 or bus number 67, 21 (address: Prinsengracht 281).
Photo